The Castle of Blois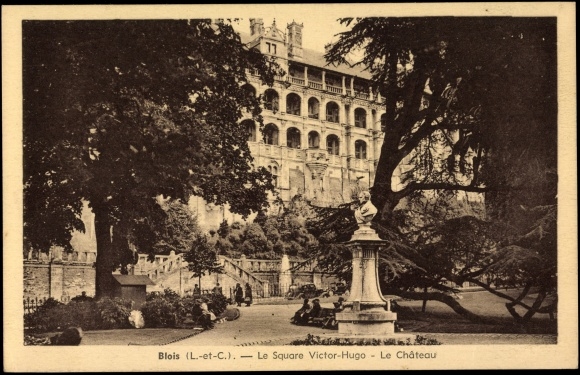 Victor Hugo Square
---
Date: July 3, 1918 Written from Blois, France, 5 P.M.
To Edith:
You have heard from me once before today, but then there may be many days when you will not hear from me and so you can excuse this 2nd intrusion. I am all ready to start on my journey tomorrow morn. Rather interesting to start for my 1st permanent assignment on Independence Day, isn't it?
I sure have acquaintance with some princely men. And it has been my misfortune to meet several demons and worthless whelps. I wonder, will they "get by" in the army. Not a few of "my boys" have made my heart glad by coming to me personally and asking that if there by any show I shall take them with me when I go.
---
Date: July 3, 1918 Written from Blois, France, Noon.
To Edith:
I am leaving present station under orders. May not be permitted to tell you name of place when I arrive, but it's not far from here. I am 2nd man to get orders (you know the number) and it promises to be O.K.
---
Enormous supply lines slowly came into being as the American Expeditionary Forces, finding that the French could not provide adequate ports or railroads or camps or warehouses, began building its own on a scale therefore unprecedented. All this involved much manpower. Pershing estimated that of the first million men that arrived in France no more than five hundred thousand would be available for the front lines. Thus it was that hundreds of thousands of men found themselves assigned to the Services of Supply, filling vital needs but seldom seeing active combat.
---
Reporting at first Assignment
Date: July 4, 1918 Written from …Hdqrs. S.O.S. - A.P.O #717
To Edith: (Tours) A.E.F in France c/o Attending Surg.' Office

At last I have an assignment to duty, and above will be my address (Perhaps I will add more to the address after reporting for duty at ten this morning.)
I am billeted at 46 Rue du Cluzel. My room is on 2nd. floor of a massive stone Bldg. on corner of St. I am sitting by an open window facing north on St. which looks 30 Ft. wide.
I cannot talk French and the Madame cannot speak English so presume we shall get on beautifully.
Got here at 1 P.M. July 4th, and the big 4th of July celebration was on. After being billeted I was going to depot to get my baggage when a young man riding a motor tricycle asked me to ride with him. He took me out about 1-1/2 miles to the ball park where thousands were witnessing a ball game and watching aero plane stunts. I saw about 20 planes perform and it's marvelous the way they turn summersaults over and over again and drop head long until your hair stands on end through fear that something has gone wrong and they be dashed to the ground. And then they right themselves and go on again.
This driver proved a splendid lad, 22 yrs. old from Texas. He promised to write to Ivan at once. He likes it here, but the immorality of the women (men too) is what shocks him. His duties take him out at night and from three to a dozen women accost him every night. He has been here ten moments and remained true and feels assurance that he can withstand their tempting from now on.
He was starving for companionship of a man and yet there are thousands of men all about. When he learned I had a son his age in army, he confided in me as a father.
Took me down to depot in rubber tired-tricycle, but my baggage, there is the rub, I found my bedding roll but not my trunk and gave my check to a dray-man (you would call his drayman), he may find and deliver the trunk and may not. Men and woman run dray wagons here, but they are too wheel carts which they draw themselves, or if they can afford it, they have one or two dogs hitched to cart to assist them.
As I write, woman go by on street below having themselves hitched to vegetable, baggage, milk, grocery, and other carts, all heavily loaded. There are very few horse drawn carts, or wagons, and scarcely any automobiles except those at army headquarters.
We have motor transportation for our staff.
---
Date: Written in Tours on back of plan of room
Wish you and Fern could be here to make a drawing of the room and contents. I think the old madam who owns it must be a widow, and she rents this room to me, either from patriotic motives or from need of the 70 francs per Mo. that I am to pay. Or the govt. may have requisitioned the rooms that to billet Army Officers.
I am to pay her servant 10 francs a mo. (about $1.80) to cook my breakfasts. I am to furnish everything. I bought a part lb of coffee yesterday for $4.60 or (86 cts.) and had bread, cookies, coffee and sugar for breakfast.
---
Date: July 6, 1918 Hqs. S.O.S. A.E.F. in France U.S.A P.O. 717 Office of Attending Surgeon.
To Edith: 7:15 A.M. (Tours)
(Same letter) 7 A.M. July 7, and a beautiful Sunday. Yesterday was my first day of real worthwhile work. I took care of sick call for perhaps 50 or 75 men who reported and a dozen women. (We take care of civilian employees who are servants (Char women) French stenographers, and Amer. telephone girls.) Then there are those who will be sick only a day or two who refuse to go to Hosp. (I mean officers who have fine quarters of their own, like this one I described to you yesterday) and we call upon them. Yesterday I made calls, in a Winton Six Limousine with chauffer and guide in front seat. Called on a Lieut., on a colonel and three French stenographers. Think two of latter in advanced stage of tuberculosis.
We handle the sick calls for these headquarters and that is at five different stations. We have three automobiles to take us around besides ambulances if we are crowded.
---
---
Date: July 8, 1918 Written from Hqs. S.O.S. - P.O. 717 (Tours) France
To: Edith - Office of Attending Surgeon. 6 P.M.
...this office looks after sick of five stations with a strength of 7500. There are 10 M.D.s on the staff. We have an infirmary of 80 beds where we take care of the acute sick who promise to be well in a very few days. The really sick and those with contagious diseases (except mumps) are all sent to one or another of the French, British, or American Hosp. The Maj. Chaudron in charge, is an ideal fellow from the South. And I am sure you will never hear me complain while I am stationed here.
Streets narrow (all alleys are streets), and wherever there is a dot of ground (vacant alley or lot) it is the most artistically plotted flower garden. We are must improve on our lawn decorations when we go to housekeeping again. And if it should be in Fairfield, that park east of us will undergo some transformation if I must become mayor and town council to accomplish it.
The people are about 50 to 150 years behind in the way of their enterprises. And 100 years behind on sanitation. I went to the 5th floor of a residence (flat) to see a civilian employee today. Yesterday I thought she sure had tuberculosis. Today she is much improved and only has the "Three day fever" or Spanish fever." In the same bed was another woman delirious with 105 degree fever. The 1st woman had a little 4 yr. old girl with her. No air in room except what finds its way in as you open and shut door going in and out. no facilities for bathing. They beg not to be sent to hosp. as they claim to get no treatment without money and of that they have none.
Another one begged to be marked duty. She was afraid the American Govt. would discharge her from her position in the A.P.O. (American Post Office) if she is sick too long. I could assure her that her job waited for her until our office marked "duty" she seemed happy then. You can hardly appreciate the awful poverty. Often a large family depend on the income of one of these char-women, telephone or office girls.
Today I drove over a great part of city making calls on officers, sick at their private rooms. (Now it is 7:5 P.M. I stopped to go to Hosp. a mile away for supper and while there an emergency call to come back here, where I found an epileptic fit. Then I went back again to supper and now I am in infirmary again for the night.) Have signed up some certificates of physical inspection for men going on leave, dressed three skin bruises, bandaged a cut knee, prescribed for "Spanish itch" and just now am to phone ambulance to take a 103 degree fever lad to hospital. This is 20 minutes work. And a sample of the whole day. But I am sure I shall like it fine. Because it is doing something worthwhile.
When I get my trunk I shall be content to stay on this job "for the period of the war", but 30 days is a long average for a man on one job. ... It would seem that if it is real efficiency they wanted rather than confusion they would keep men at the same task instead of everlastingly changing, but such is life in the army. This infirmary and also our hosp. are as massive as "Mary ?anning" and as fire proof, but not as clean. We have no women helping here and only one Red Cross nurse at the hosp. So you can imagine how difficult to keep clean.
I said in a letter dated July 5 or 6 that I would describe a trip I took. Well it was to the American Aviation fields. Again I must say that the only disappointment was that my "sweetheart" could not be with me and see the immensity of the thing. Hundreds upon hundreds of machines of different makes plying the air. Three M.D.s with Ford ambulance always on duty in case of emergency.
[Ed note: the Tours Aerodrome eventually became the Tours Val de Loire Airport. Below is an image of its gate:
This was the HQ of the U.S. Army Air Service. It is here that the Aviation Section, Signal Corps, became the U.S. Army Air Service. In July 1918 the Service adopted as its insignia the winged propeller, similar to that on the gate.]
Journey on the "Paris road" to see the beauty spots of earth, in way of landscape gardening, the palaces (chateaus or castles). How dense the population in the cities, and yet, no congestion or crowding in the streets (streets vary from 20 ft. to 20 ft. wide, all paved and high buildings on both sides.) no automobiles or trucks in use except U.S.A. Few horses on street, and they are hitched singly to vans that would require 2 to 4 horses in America. Far more bicycles than any other conveyances. Kenneth ought to be here. He would sure have a bicycle. Not many streets car lines and they are not overly well patronized. People walk instead of ride. Women motormen and conductors. Women sweep the streets, haul the sewerage, clerk in the stores, work in tailor shops and laundries. In fact French men, aside from soldiers in uniform, are mighty few or aged, infirm, or very young boys.
Edith wish you would keep my letters and cards and file in order of dates. For I seem to have no time to keep a diary. And I fancy that I can get by the censor with enough to you so I can connect it all up when I get home. Tomorrow I shall name this town. And it will show you that here is the American Hdqrs, for all our enterprises in France. Then you will know the class of folks from generals down to plain clothes detectives and other govt. employees, which we serve. Seems too good to be true that I draw an assignment like this and I do not expect to be lucky enough to keep it. But I know I can make good at it. And easily do two men's work and be happy.
---
---
Date: July 10 Am. Expeditionary Forces, Office of Attending Surgeon
Hq. S.O.S. Am P.O. 717 - France

In censoring a large number of letters I gather that the men are not overly enthusiastic about help of Y.M.C.A, but without exception they all speak in terms of highest praise for Red Cross and the work it is doing.
Some of patients that were very ill the 6th are convalescent now, and few show a good deal of appreciation of what the doctor has done for them. They offer to teach me French, but I am afraid I am too dense or stupid to learn French.
All the strenuous physical exercise at Ft. Riley was a joke for my case, because I ride the "Winton 6" limousine on my calls then to dinner and return, then to supper and to my room. If I have a block to walk (like to commissary, or Y.M.C.A. etc.) the chauffer insists that I ride.
The "Winton 6"
Having lost my trunk makes me indifferent to any further loses. The less a man has here the better he is off. So if there's anything in my room (when I'm not here) that anybody needs worse than I do, he's welcome .
---
Date: July 11, 1918 Office Attending Surg. S.O.S. A.P.O. 717 A.E.F. France (Tours)
To Edith:
I think I told you this is Tours, France but that name better not go on outside of your letters. (That's a joke, I've not seen a letter since Ft. Riley May 31) until I say its O.K. and then, likely, I'll not be in Tours.
Today I made about 8 calls out in the city. It is sure interesting to go out of a palatial home, where some army officer is ill to some 4th story attic in the slum part of the city to see a less favored creature of earth, and yet, they are alike human for all of that, and doubtless the most human is often the one in less favored circumstances. This eve, I borrowed a loaf of bread from Hospital Mess Sergeant as commissary was closed before I recalled that my bread was all out. The French get a bread that is very little cereal, mostly potato, black and soggy, and limited to just so much for every man and woman and child in the home. My, how often I feel tempted to toss a square of my bread to the youngsters on the street below. I never saw kids in America crave candy, like these do bread. Sugar and butter, and meat, and coal oil, and lard, are all handled by ticket and when one's portion for the period (be it week or month or day) is gone, that one must go without.
Tell Kenneth, I meet a 17 yr. old Paris boy last eve. (I had thought him at least 23 or 24) He is working for his Govt. as a German interpreter. He learned his German in school. He plays piano well; I had him play America and sang the words for the family.
This is sure a wonderful people. They go about their duties apparently indifferent to the terribleness of the war. Even though every home is suffering directly in way of members in army, or crippled or killed. I talked with a French boy who is in hosp. now for his third wound. He was in his mother-in-law's house, where I called today. He says the men from 21 to 30 are about all killed or wounded so as to be unable for duty at the front.
This letter writing is a kind of joke. One is right in midst of news and where history is in the making, but one must not say a word. This reminds me of an outline of a letter one ought to write.
BLANK LETTER FORM
(Fill in blank space with information you wish to give) Date__________(give year only)
Dear (Father, mother, pal, sweetheart):________________ (Write to one person only)
1. I am here in ________________________(Specify anything but the place)
2. I shall not be here next ___________________(Do not specify time.)
3. I shall be in ________________________________(See line 1.)
4. I am well________I am not well_________________(Check both or none)
5. Well, I must close now. I hope you are the same.
6. Write often, care of ___________________________________________
Do not specify any address it might be used by the enemy!

Truly yours ____________________________________________
Do not sign real name. It might be used against you.
Here is one for Homesickness. "If patient is unconscious wind his watch, return it carefully to your pocket. See if there are indications of rust marks on the back teeth. When patient is able to take nourishment, feed him hot goulash through a straw.
Since losing my trunk I learn there are a lot of things one can do without. And there are a lot of fool thing I might have bought and lost that I didn't. Here is a list that I didn't buy that are about as necessary as those I did buy.
--Equipment-
"While the government furnishes the essentials of military life, experience has taught that the following articles contribute to one personal comfort.":

One paper-hanger's outfit
One 24 foot ladder
One case of dominoes
One base violin
One four-inch hawser
One vanity box
Two typewriters (not so Paul?)
One fly-rifle
One Nice work bench
One mahogany bar
One Chicago directory
One brassiere
One Kitchen range
One 1906 Ford
One Slot Machine
One chiffonier
One manicure set
One Saw horse
One Morris set
One chafing dish
Four doz prs. suspenders
One Clothes-dryer
Four good Persian rugs
Two Clothes pins
One tooth-brush with Evinrude motor attached.
Can you think of any other equipment if, so forward the list with your additions to that wise bunch of nuts at M.O.T.C. -Ft. Riley.
---
Date: July 18, 1918 Written from:
To Edith: at 7:30 A.M.

I went through the little park last eve. Anything I have seen in Nebr. as a "park" is a mockery of that term compared to this beautiful spot on earth. I do not wonder that the artists can paint Paradise with such visions of things beautiful. Some time I shall learn names of trees (At least a dozen varieties, and you never yet have seen an Evergreen, or a Weeping Willow or a Sycamore, or a Magnolia, until you have seen these.) Did I say the Magnolia blossom was "so big", well I am sure I saw them open last night, whiter than snow and larger than your meat platter, if it were circular, with greatest diameter. Then the beds of flowers, Begonia, foliage, Geraniums, etc.
---
Date: July 13, 1918 Written from Office Attending surg. H.S.O.S Am P.O. 717 AEF
To Fern:
I have been thinking of my "Sweet girl graduate" every day since last I saw her. And that, many times every day. I wanted to wait until conditions were just right to write you a real letter. That is, some time when I was alone in some lovely, quiet, nook in the Botanical Gardens where I could be in just the mood to write befitting your very sweetness and best self.
But, child you are spending the summer with mama, and my letters to her are your letters. She is no older than she was at "Sweet Sixteen" and anything I say to her that is of interest, will also interest you. If it does not interest her, the fault is mine. I should not have written it.
Fern I wish you could go with me, if just for one day, on these calls. You would sure be glad you are alive. You would be profoundly grateful for your being do favorably situated as are even the Bentz's in Nebr. We have all the blessings that are the few favored high class aristocrats have here. And what a multiplicity of good things we enjoy, which are denied the vast majority of earth's human creatures.
I called in the city apartments of one of the renowned "Rochambeau's" (I think it is) today, at request of a Capt. who is distant relative to see the old father of one of the occupants. They enjoy everything in this world that things material could provide. But he has not health, and what's more he never will have health. I expect to keep calling just to please the Capt. and be of comfort to the family.
Then I called on a char (chore) woman. She lives in an alley (we would call it) with Belgian hares, chickens, kittens, and children. Any other little plots of ground not occupied are growing the prettiest flowers, and vines. She is about 30 yrs old and I presume is well advanced in "consumption." She has 3 little children. Her husband (whose portrait hangs over the head of her bed) is in the army at the front. Her mother lives in a room about 10 or 15 ft. away, with 7 children (two are in the army) some small. Her grandmother about 75 yrs. old is in another room not 20 ft. away.
Child never complain or become disgruntled at your lot. I am sure you could not after witnessing some of these scenes. I can do nothing for this mother, but I told the interpreter, we would go there again tomorrow with 7 sticks of candy for the 7 little tots who are starving, as much for a smile and a little attention, as they are for food.
I come in contact with dozens of boys like Paul and Ivan. And not all infrequently I have a chance to drop a word that makes them volunteer the information that they promised mother they would stay clean, no matter how long this war lasted.
Some of them will have the strength of character to keep their pledge, but also, many more will bring the keenest of disappointment to their loved ones, should they be privileged to return home. I really do not know if I have many friends at home (of course I have many acquaintances), but I am sure trying hard to show myself the friend of our boys here. And I just know it is worth all, and very, very much more; that it can possibly cost me in discomfort and inconvenience, and loneliness, or homesickness or hardship incident to this call away from home.
Girlie, I must close now, because this would hardly be a letter if I rambled on and on ever so long, but I love you Fern and I wish for you the very best of everything that is good for you in this life.
Think of me as endeavoring every waking moment to be helpful to someone. And, if not helpful, then certainly not a hindrance. (Yesterday I called to see an officer drunk, with idea to use me on witness stand in a court martial. Nothing doing. My testimony will never hurt a brother in distress. Society makes this thing popular and then furnishes the victims.)
---
Date: July 15, 1918 Office Attending Surg. Hdq. S.O.S. Am P.O. 717 A.E.F. France

I now have an "identification book" or passport. My photo adorns one page. That is, it was taken as my photo. I made no protest, because while I am alive, I can identify myself, and if I am ever a corpse with this thing as part of my effects, I am sure there will be no case of mistaken identity. The orderly who went with me said I would certainly resemble me after the Dutch get me.
---
Date: July 18, 1918 Written from Vichy, Allier, France, U.S. Base Hosp. No. 1
To Capt. G. H. Bentz From Capt. B.R. McAllester:

Captain Conklin and myself are attached as above and rapidly as possible adjusting ourselves to the new conditions.

Have not discussed the matter with Capt. C or anyone else but have wondered if assignment to Tours and your proximity to the office of the Chief Surgeon had any connection with our orders. Whether it did or not, we both feel pretty good about the assignment and you may be sure we will try hard to make good.
---
Date: July 20, 1918 Office Attending Surg. H.S.O.S. Am. P.O. 717 A.E.F. in France
To Edith:
Are you thinking things of me? It must be so forever and anon I am wanting to write. When I get "my first letter from home", I think I shall be happy. Just now I think I should feel lonely were it not that every waking moment finds me with something to do.
Last Eve. about 8:30 I left my room for my daily walk in the park. Before going I waved across the street and, on 3rd. floor, to a little 4 or 5 yr. old girl to go with me to the park, and thought the sign language made it all "plain as mud" to the parents. But on reaching the street and after giving her a piece of white bread and jam, (The French carry their rare bits of brown mixture (excuse for bread) called la pan, around and mince it like Americans would candy) I motioned her to go with me. This she did and seem delighted, but the father came running after and accompanied us about two blocks, and then compelled the babe to go home with him. He either was ashamed to have her seen in the park in that particular apparel, or he feared I was trying to "kid-nap" the little wretch. If I thought the latter were true I should never look towards their window again. They watch every move I make. (It would be as if Mrs. Bell sat constantly at her open window up stairs, about where your lilac bush is and looked down at you through your big open window in the kitchen.)
Windows swing on hinges here like double doors, and are much larger than in America. I doubt if this child ever gets 50 ft. away from the flat and yet here is a park as beautiful as nature assisted by the mind of man, could make it, only 3 or 4 blocks away.
I have been here a little over two weeks and yet have quite a few little friends. The lemon drops and stick-candy from the commissary do it. Wherever I make a call the child if under 6 to 10 years old gets a stick of candy or a lemon-drop.
I see, oh, so many, many bright clear eyed boys over here in this "mill of war". Every one of them the "center of the universe" to some mother or father or sweetheart. And you will never know how glad I am that the circumstances have been such as to put me here I can be among them. And I hope no day shall find a "setting sun" without I have encouraged some youngster. It does not take much. Just remind them that their very bearing, evidence a character such as to prove that those who are very much worthwhile in America, are doubtless thinking of them, and expecting them to return home to them untarnished by any stains of war. And if they do not return, be sure that those "over in the States" will entertain no doubt about how they have acquitted themselves in the final test.
Are you keeping the lawn "the prettiest in town"? Did the garden amount to anything? How are Paul and Kenneth and their mama, Edith, and their brother Ivan?
---
Date: July 21, 1918 Office Attending Surg. H.S.O.S Am. P.O. 717 - A.E.F., France
To Kenneth:
I have been writing your mama for nearly two months without receiving one single solitary reply. So I better take you on for a trial. I see plenty of 17 yr. old boys here, but they do not begin to compare, in my estimation, with our own American Stock of that same commodity. They are for the most part, tall, slender, pale faced. No smiles nor other evidence that they are happy. I like the boys with our uniform much better. They are from 21 to 31, and full of life. Clear-eyed fellows, that will make the "Bosh" hump when they are given the chance. But of that, we shall know later.
Now, about this country, France, it is much like America, and it is much unlike America. Depends on how you look at it. See? Where ever one is, he is still on the earth, where we have the same Sun, moon and stars. Same sky, with clouds and sunshine. Thunder storms, and calm, rains and droughts. Here are the same birds and trees that we have; the same plants and flowers. The buildings seem to average better (I should say more durable) than ours. Not so much variety in architecture, but even the most ordinary buildings here in Tours, as also in Blois, have tile roofs. The streets are narrow and the blocks have no back yards for garden as a rule ----- all built full of places for residence. All blocks are walled in (that is the spaces of vacant lots between library and F&M. bank should have high wall (7 to 10 ft. high) connecting the buildings.) The walls are 1-1/2 to 2 ft. thick and have sharp pieces of glass all over them to prevent boys from climbing over. The streets are paved, sidewalks usually 2 ft. wide, then the curb, and most of streets just wide enough so two automobiles meeting could pass. The main streets (our boulevards) are wide with trees and plants in center, like So. 15th in Lincoln.
The streets and alleys are swept clean every day. And wherever is a little spot of ground with no building, there grows in the most luxurious fashion, a shrub or a flower.
They are clean and yet they are filthy in many ways. There is a well and a toilet may not be five feet apart. Their modesty is of a type different from ours. Your Lincoln Y.M.C.A Bldg. should have a urinal about 10 ft. from main entrance. (A little recess in the side wall with a depression on the floor for a drain. No screen of any kind, not even a screen from gaze of passing pedestrians, let alone a screen from flies.) These places can be found along the streets at almost every block.
Soldiers taking a trip by railway train dare not take a dose of Castor Oil as train might not stop at a convenient place for soldier to answer call of nature. A lot of boys are fooled into losing their train. The train stops at a station and the boy, thinking it will be for some minutes finds the train gone when he gets back.
Troop trains are, in reality, freight trains. In some few things these people are ahead of us. I believe the 6 yr. old equals the 10 yr. old in America. The 16 to 18 yr old compares in age and maturity with the 21 to 25 in America.
Yet the folks are from 60 to 150 years behind Americans, in their manner of doing things. And 1000 years behind in sanitation.
Their tables are different from ours. They eat some viands, but cooked and flavored differently. I wish mama could taste the coffee, I have to drink for breakfast. I thought it was the French method of roasting coffee that I disliked, so I bought American coffee at commissary, but it's no better. I think the servant boils my coffee for a couple of hours in the evening and then heats it in morning to fetch to my room on a platter where I breakfast on bread, jam and the swill they call coffee.
Today I hope to find an ex-patient in the park and have her write in French how I want my coffee prepared. This note I will leave on my table. If it don't get results I go without coffee for breakfast.
My dinner and supper is easily the very best I've seen in the army. Great variety of fruit and vegetables and a professional cook to prepare it.
---
Date: July 23, 1918 Office Attending Surg. H.S.O.S - A.P.O. 717 - A.E.F in France
To Edith:
Yesterday I was called to a hospital where several trains loads of wounded were brought in rather unexpectedly and I did more dressings in one day than I would likely do in a year in private practice. All degrees and varieties of injuries, but the lads are brave and optimistic. They say that for every man we lose the Bosch loses five. You doubtless hear more than I do, so why should I try to write of matters that may happen would not get by the censor.
One of our doctors here is begging to be sent "up front" and he promises to get his wish in a few days. He thinks "The Battle of Tours" too tame for him. He says he is going after some decorations and another bar. Which he would never get here. We may be means of saving life here, but it would not bring us anything in way of promotion, notoriety, or other kind of gaudy tinsel.
He is going to take his lariat rope along and if he can drag in some Boche General he will do it (Ha! Ha!)
Will be busy censoring letters until 11 tonight and then sick calls at 7:15. It is rather pleasing to note how the boys paint everything as rosy when writing to their mothers. Yesterday when I thought we were through dressing wounds, I shared six lemon drops with the two Red Cross nurses. Just then a lad with a shattered foot was carried in to be dressed. The nurse gave him her lemon drops and smiling said it was his anesthetic. The nurse turned from him and so did not see the tears well up in his eyes. This may have been his first glimpse of an American woman in months and reminded him of the sympathy he could get if at home, and wounded like that.
Since writing this page I have lanced abscess in hand, lanced a boil, treated a cold, and a tonsillitis and gave laxative to two, and "heart burn" (dyspepsia) for one.
Just one continual stream so please excuse blunders and a fond Good Night and God Bless you!
---
Date: July 28, 1918 Tours, France 8 P.M.
To Edith:
The people here are certainly trying their very best to be congenial and agreeable to the Americans, but I doubt if we understand them and I know they do not understand us. It is common talk here that America was not a day too early in joining the Allies, as the thing promised to be disastrous for them. But surely the "morale" of the Americans is putting the inspiration back into the allies.
Residents here cannot understand why the Americans here in Tours are impatient to be transferred to the front instead of remaining back on the "line of communications" where all is safety. Guess the Dutch are getting theirs these days, but sweetheart, do you know the price? We see something of it away back here. All I can is I am glad to be here and throw the tiny atom of help toward swinging this old war to the correct termination. It must be that civilization is getting a horrible set-back because of this war, but "we should worry" we did not bring it on. It is left for us to do the best we can to right conditions and then rest content.
Sis-wish you were sitting with me by this open north window and could hear hum of the aeroplanes as they play about over the city in their practice maneuvers.
---
Date: July 27, 1918 Written from Office Attending Surg. H.S.O.S Am. P.O. 717 A.R.F. Fr.
To Paul: 3 P.M.
No wonder they arranged a Hell to last for eternity. The imps responsible for this war will need to suffer that long to get sufficient punishment for what they have brought onto an innocent human.
If the papers may be relied upon, we are holding the Hun in his tracks and even driving him back in places.
---
Date: July 28, 1918 Written from H.S.O.S - A.P.O. 717 A.E.F. (Tours) Fr. 3 P.M.
To Kenneth:
May be the reason I do not get letters is that I am not writing the right person; so will take you on, see? That is only a pleasantry, for in censoring some hundreds of letters. I find the same cry from Michigan to Miss. and from Mass. to Oregon. "Have had no letter for two months." or, "No letter since leaving the States."
It is interesting to censor letters, but rather monotonous. Same few new, mayhap original, phrases slip in once in a while. One lover signs himself "Yours till death", one says "Tell X.Y. or Z. I ask for them." Another one writes a sweet love letter and spoils it all by closing "your pal".
So I came to the park at two o'clock, bought a chair (rented) for 10 centimes (2 cts. American) and have been sitting here waiting for an American Military Band to come and give us a concert. Just now I am reminded of somebody's verses; "Then sit in a house by the side of the road and see the world go by." I sit in a chair by the side of a tree and watch the world go by; French men, woman, and children, French soldiers, American soldiers, boys flirting with girls, hundreds of people. Reminds me of Epworth Assembly just a bit. Only the trees are larger and the flowers and plants more beautiful. In fact, Kenneth you have not seen flowers yet until you see them in their beauty and profusion in France.
[Ed: Epworth Assembly began as a Methodist Chautauqua-style family site on Lake Michigan. Photos show it full of a range of people.]
Things are doing up at the front. Guess you will hear about it before this reaches you. I have a feeling that when Americans get here in good big numbers, with their American push they will crowd that Hindenburg line back at a lively rate. These people are too slow and easy-going. The wonder is that they have held line as well as they have. But time will tell what we shall see - if we are here to see. Kenneth, I brought a little book "How to be a soldier" (by Brainless Bates) to read if I am not too sleepy. I run across these lines which you might have Fern play for you:
Perfect Day

When you come to the end of a perfect day. And your due for a sudden hunch
Do you sometimes think of a Royal Jay whose jaw you would like to punch?
Do you sometimes think of the joy t'would bring -and last you a whole long week,
To just wind up for a right hand swing and land on the Kaiser's beak?

Well this is the end of a Perfect Day, with nobody round to stop;
To get your teeth in the Kaiser's crop, To get your thumbs in a loving way
On the back of the Kaiser's neck, while the sun goes down with a flaming ray,
And lights up the royal wreck!
---
Date: July 29, 1918 Written from Office Attending Surg. H.S.O.S. - A.E.F. France
To Edith:
Will you believe us, I ways did think your hand-writing the very sweetest to my eyes, and now I know there isn't any doubt it at all (June 7, & 11) this morning. It speaks of incidents that are Ancient history to me, but it is pleasant to have you mention them. You say Fern was too tired mowing my lawn, to write. Much as I insist on my lawn being mowed, I deem it more important for her to write me 1st, and make lawn mowing 2nd. in the future please.
You were provoked at not having the right key for your trunk. Well I happen to know that you had the right key, and doubtless, see now you have gotten into the trunk. But think of me. I have my key, but not my trunk. I have hardly thought that to lose all my earthly possessions could annoy me as much as the absence of this pesky trunk locker and contents." Ha! Ha!
General Pershing was in our camp this morning. I did not get to see him. But Ivan should have heard Pershing's little speech to our men. It was to effect that "Even though you are not on duty up at the front, your duties are just as necessary and just as highly appreciated as though you were in the "Zone of Advance".
---
Date: July 31, 1918 Written from (Tours) A.E.F.
To Edith:
"You must know that, It never rains but it pours". Your two letters came Monday, and when I went to my room Tuesday, there was my long lost trunk staring me in the face.
Am send you a letter handed me from King of England. (His Majesty did not give it to me in person, but it is from his pen.) Then I drew bread tickets for Aug. --- 90 meals and I may use only 3 or 4, so am sending you 100 gram. per day for 30 days.
---
Date: August 8, 1916 Written from New York (Genesco Jam Kitchen, Genesco, N.Y.)
To Captain G.H.Bentz, Office Attending Surg. H.S.O.S., Am P.O. A.E.F, France.

My dear Captain Bentz:

Miss North has asked me to write and thank you for your praise of her jam. Such a letter as yours is a pleasure for she knows that you are sincere in what you say and that you really enjoyed the jam. The Jam Kitchen is a very busy place these days. To give you some idea of the amount of fruit we put up ---last winter Miss North sent the army over a million cans of assorted jam and this summer she hopes to do even more than that! And when the Genesco Jam Kitchen had its beginning all the work was done in Miss North's own Kitchen! Now, of course, it covers a much larger space. A number of the men on whom we depended have entered the service but we have also put in a number of new machines which minimize the labor and we hope to do as much if not more than before.

I was so glad when I read what you said about France. In my mind's eye (I have been there) I have always pictured a lovely country but most of the soldiers who writ Miss North about her jam, do not seem very favorably impressed. They usually add that they cannot understand a word of French so perhaps that has something to do with making them homesick.

I have been knitting socks all morning but today it is so hot it seems as if it would never be cold enough again to wear woolen clothes. I hope you have not had the weather we have. Of course here in the country it is not as bad but in New York nine people died of the heat day before yesterday.

I am so glad you liked the jam. Probably more of it will come your way. I hope so.

With best wishes, Believe me. Very truly yours,
(Signed) MARY P. YOUNG

Date: August 8, 1918
Here is a joke. From the unpretentious label on my jam I thought I was writing to some High School girl who was conserving waste by canning fruits and jam. When lo and behold I was writing to a factory or corporation. Ha! Ha!
---
Date: Aug. 11, 1918 Postal Written
To Edith:
I saw R X hundred Boche prisoners yesterday that Americans are moving somewhere. Barbed wire keeps them within bounds of safety. They were cooking meat and looked not altogether in despair. Hurry the day when there are millions of them either taken or killed. Now I go to help with sick call and then to Church. G.H.B.
---
---
Date: Aug. 12, 1918 Written from Attending Surg. Of. A.P.O. 717, A.E.P. - H.S.O.S.
To Edith:
It is about time for me to begin a letter from home again. (Do you start a letter once a month or so?) The last letter I received from you was dated "June 12". I read it every two or three days. But soon I will not need to read it for I know it by heart. It's easier to memorize than a French vocabulary. I begin this type writer but on orderly needed to use machine (we only have five type-writing machines in the entire office), so I will try the pen.
But "nobody knows", before you get this letter I may be transferred to a less desirable location. Meanwhile I am going to enjoy it to the limit and do absolutely the very best of work. So if there is a change it will not be due to "inefficiency" at any rate. (One certainly has a chance to compare one's self with others over here. And one could weep for pity or shame at some of the ridiculous incompetency shown on part of some who claim to be doctors.)
The large cathedral here has an altar (or chapel) for every saint ever heard of. This little church of which I will mail picture has three alters one to the Holy Trinity, (Father, Son & Holy Ghost), one to Jesus and one to the Holy Mother.
This girl thinks she could not possibly steal roses overhanging a wall without confessing to a priest. Yet she claims to dislike priests.
I made fun of her and asked why she did not confess directly to the Almighty. She said it would be too easy to do, to be of any worth. I told her to make only her mother a confessor, that a priest was a man and so I absolutely know he is unfit for a woman to confess to. She seemed pleased that I could tell her significance of most of the symbols in that service on Sunday. I remembered some of the Chaplain (Maj. Dougherty) explanations at Santa Maria. I asked her if the service was French, Spanish or Latin. It was Latin, of course, and so the same as it would be at Santa Maria.
In some things these folks are as primitive as the Mexicans. But its amusing to be a foreigner. How would like to be the Greek, or the Italian in Fairfield? That is what I was up at this little station. The children flocked about me with curious eyes and some pointed at me and whispered remarks. I told Simonne that she should partition a rabbit cage that was there and put me in one end, the rabbit in the other and she could put on quite a show.
---
Date: August 21, 1918 Written from Office Att. Surgeon, H.S.O.S. - A.P.O. 717 France 9 P.M.
To Edith:
Am acting O.D. again tonight. All work is up to date so I will spend just one hour practicing on this easy looking Oliver (Providing no one interferes). Edith, there seems nothing new. My letters and cards must have become very monotonous before now.
Guess I will try to give you one days tour in Tours. I have been treating what you would call "Summer Complaint" for the most part the past ten days. Yesterday I got it myself and seems to be just about as uncomfortable without treatment as my patients do with treatment. I have been trying oil, bismuth, and salol on one group of cases; then opium and camphor on another group. But all seems to require about a week or time to recover.
[Ed: Apparently "Summer Complaint" was a term for acute diarrhea, occurring often during the hot summer months, caused by bacterial contamination of food, and associated with poor hygiene.]
Last eve at supper table Col. Edwards told us we should go to the Metropole Theater, so when I went to LaJoyes for my usual French lesson I proposed to Simonne that since her Father was home to care for her Mother she go with me to see "The Belle of New York". It sure was an interesting play (You could hardly call it Opera). But it was after midnight when we got home. At 7:30 I got up had coffee, bread & jam, shaved and got down to "sick call" at 8:15. Then at 10:30 I started my calls. First a Maj. (Influenza). Then a Miss Villiers at Hotel Moderne (Grippe) and the cook at same place (Tonsilitis), then lanced a felon for little 15-year old Madeline Doran, a servant girl.
| | |
| --- | --- |
| | |
| The Hotel Moderne is still there | #1 Rue De Barre |
Then Capt. #1 Rue De Barre for Nervous breakdown. Then Lt. at 139 Rue de Boisdenier for gastroenteritis. Then to dinner where was a banquet (But I took only coffee, bread and meat.) Then to Mrs. Purcell, wife of Lt. (Diarrhea, acute), then Miss Wade, Red Cross nurse, at 43 Victor Hugo "3-day fever". Then Army field clerk H.G. - at 11 Rue de Mets. (Influenza), the to commissary for U-Needa-Biscuits, bread, grape-jam, and lemon-drops. Then censor letters, then back to hospital for supper and listening to reading of several pages of orders and circulars. Then back to (Just now a truck train, seems like hundreds of them are thundering by my window on way from coast to front.) This office where I have visited two soldiers in barracks sent two to hosp. and treated 3 or 4 for Gastric trouble, advised with one about flat-feet, censored the rest of today's mail, and now it's 10:30 P.M.
So the days follow the nights, with little to vary the program. (I have not hinted at the "drunks" or venereal cases that mar and blight this while business. One awful and terrible harvest of suffering and anguish and remorse, must be in the making for the Young-American now on this over-seas mission. I tremble for Ivan and Paul when the time comes that they must come over here. This one little "Infirmary" administered over 3000 prophylactics to customers of the "street-walker" last month alone.)
I have my boots at the cobblers again where it will cost me 12 francs to get them out. I traded my puttees to Cap. Shaunty for larger but they are too tight so I bought a pair today from Cpl. Furlong for 20 francs. They match my little shoes fine.
The last two days have been hot like some of Nebr. Aug. weather.
Sweetheart, it is 11:15 P.M. and I must be up at 6 tomorrow. This typewriter is an awful time killer in my hands. So now Good night and sweet dreams, for it must very shortly be your bedtime too. (From Your Own, G.H.B)
---
Thurs. Morn. 8/22 9 A.M. (same letter)
And I have run through a sick call of more than 100 soldiers. (mostly diarrhea). Got up at 6 o'clock, walked over some steps of cobble stone to my room for coffee and bread. Then back to duty at 7.
At 10 I begin my calls. Here are the tickets: Et. Smith, Miss Robb, Maj. Holden, 6-yr old child of Mdm Basin, Miss Villiers, H.S. Greene. These are all different addresses. One way up on bank of Loire River. Now I wish you could sit in car with me on these drives. Have given you this page, so you get an idea of the daily grind.
Before night there will be from 3 to 8 or 10 more calls. All I do is get into car. (The other fellow drives and finds the addresses.)
Now I walk to Q.M. for some "U.S." buttons. You see we are all in one army now. No more M.R.C. nor N.G. all-U.S. over here.
I shall try to bribe a clerk, by a wink, to let me have a box of chocolates also. And a loaf of bread, sugar, 3 lb and 1 lb. of coffee.
When may I be looking for a letter from you? Had one dated June 7, June 12, July 11, now looking for the one you must have written on Aug. 10. (At the same rate of frequency.)
Love from your G.H.B.
---
Date: August 26, 1918 Written from Off. Att. Surg. H.S.O.S. - A.P.O. 717 A.E.F. Fr.
To Edith:
You may remember, I wrote you once about our Western conceit, and that there was no place like Nebr. when if it were not for prejudices we must admit that every state gets better clear east to New York. In like fashion we are apt to think the American people are the finest and most beautiful folks, but honestly, there are others. I told you something of the French, and of the Belgians, and now this little group of Serbians. They are beautiful children, refined and cultured beyond what you would expect to see of youngsters in America.
However, I remarked about our pride in our home country. What I was wanting to admit, is that other countries have fine children and even grown-ups folks, as well as does America.
After this sojourn, we were picked up in auto and went out to aviation fields. Literally hundreds of machines and flyers were up all at the same time. You mark my word, some interesting things are going to happen when you and I are much older, and the aero squadron will make a good record for themselves I'm sure.
[Ed: Given what happened 20 or so years later, this strikes me as one of the more prophetic observations he made. The fact that it was based on direct observation, rather than a theoretical viewpoint, makes it more powerful.]
---
Date: September 7, 1918 Written from Off. Att. Surgeon H.S.O.S. - A.P.O. 717 - A.E.F Fr,.
To Kenneth:
You spoke of 975 soldiers leaving Lincoln, and the parade. That is well. Send them over in ever increasing numbers and let us put the "Kibash" to the Hun and do it quick. When you have a dirty, undesirable piece of business that must be attended to, one likes to get it out of the way at once.
Long before this reaches you, there may be news of something doing "over here" that will be disappointing to the Hun or surprising to us, or both.
Lad, please go slow about advising anybody to come over here, as a soldier with the idea that it will be great sport and a delightful journey of adventures and sight-seeing. War, well son, you and I know very little about it. I am near enough to get some of the results of it at first hand and what I see in way of human wreckage and salvage, is enough to drive one mad, who would continue long to contemplate on those things. And no wonder that not a few come back from the trenches raving maniacs, and fighting the whole thing over again. But, enough of this. I would not say a thing to discourage any boy from going whose duty it is to respond to the call. In fact I would be ashamed of one who willfully schemed to get a deferred classification and remain at home when under the normal operation of the law he ought to be in the army.
You speak of the theatre and "National Law" and the old time doctor. Someday you will enjoy reading: Oliver Wendell Homes Medical Essays. He knows the real doctor, and portrays him beautifully, but Kenneth, don't deceive yourself or over-flatter your father. Speaking of the work of the Doctor and his opportunity for doing good. I have had more folks be really and frankly and honestly appreciative of my work in the past two months than I had in sixteen years before. I am busy all the time with folks who are sick (or think they are), I see them and direct a prescription be written or filled. Someone else drives the car, looks up the addresses, does the interpreting, carries my medicine case, rings the door bell, etc. All I do is see the sick and prescribe. And while I have perhaps twenty times the number of patients that I would have at home I do it with 1/20 of the annoyance or worry or weight of responsibility that I would in my own private practice.
Son, you have never seen a pretty home till you come to France.
And Kenneth, let me whisper to you, that, so far about anything I say goes. And here is the secret of it. I obey orders. For example: sick call begins at 7:15 A.M. and is held by two doctors (so the order say). The O.D. (Officer of the Day) and the old O.D. and all doctors to be on hand at 8 A.M. Well I'm always there at those hours. Some come straggling in as late as 9:30 or any hour a little earlier. So, there's the reason. They sort of joke me as "Bennie the old reliable", but believe me , it pays and I can slip in a many a little auto drive on the side for pleasure, or remain in my room for letter writing, because of that kind of a reputation.
[Ed: I mentioned this idea to my daughter Genevieve when she was in high school, and she found it to be true - if you have the reputation of being solid, showing up early, etc., you can actually get away with a lot more than those who don't show that sort of spirit. I wasn't being cynical, but it is a truism worth learning early on.]
---
Date: September 11, 1918 Written from Off. Att. Surgeon H.S.O.S. - A.P.O. 717 Fr. 10 P.M.
To Edith:
...can it be because of my three fine boys and their lovely sister and sweet mama? That somehow, I can put a little sympathy into the pills, that the others have not the knack of doing. Anyway the distinction pleases me and I could not begin to think of being rude with them.
Edith I am sad this morning, so sad that for the time being, I have locked myself alone is one of the offices. No doubt before you get this letter you will know of the offensive being made, you will not know at what cost in blood and suffering and mortal anguish of untold thousands. That will not be told for many months.
In a few days we are to have r s (23) thousand German prisoners here in this place. So there is something doing. If there is a God in Heaven why must this thing continue? If I did not feel for an absolute certainty that I am needed here I would ask to be transferred up to the front, where is the awful desolation wrought, by human butchery, just to look some of those fellows in the eyes and may be, be of a little comfort to them. But more than half of my time here is devoted to civilians who have had four years of this torment, and if I can be of any encouragement to them, I'm content to stay right here.
Edith, I am learning a new meaning to some very familiar terms. One of them is confidence. I never saw anything more beautiful than is the confidence of these French people in the American soldier, providing of course, he is of the type to inspire such confidence. (Which, I ought to say in a whisper, is not always the case.)
---
Date: Sept. 22, 1918 Written from 44 Rue Boisdenier, Tours, 3P.M.
To Fern:
The cosmos will be for my room, or office desk (I don't know which yet.) and the gladiolas will find their way to our infirmary hospital, to Miss Owen's office desk. Did I tell you that I am keeping a bouquet on that desk all the time at a cost of about 2 fr. per week? Miss Owen is certainly doing a wonderful work. She is a frail little thing, about your build, but must be 40 or 45 yrs. old. She is only female in that hospital of some 80 patients. Child if you could censor some of the letters which these convalescent boys write and note the words of praise and commendation of this little "Angel of Mercy", for the way she directs and "mothers" them.
You could not be blamed for wanting to become a nurse. But she is exceptionally fine. Not beautiful, but just an ordinary sensible home loving little lady. It is worth living 40 years just for an opportunity of a year of such service as this little service as this little Methodist deaconess is privileged to perform.
I must tell you of our visit to a cathedral at 12 o'clock mass today. It is a splendid all stone structure. (I'll mail a post card of it tomorrow). The interior is of dazzling beauty and splendor. The service was a long (1/2 hour) patriotic service. American flag hung just below and to the right of the French flag.
Simonne has been plying me with questions as to how I spend the moments in church. (Since I do not hop up and down and onto my knees at every little turn in the ritual) I told her I admired the 14 massive marble pillars (7 on a side) and the beautiful architecture and the splendor of the altars and was reverent and enjoyed the pipe organ music and the voices of the chorus etc.
It is plain that they think the protestants are irreligious. Only the Catholics are devote Christians. I think in many of our thinkings and beliefs we and they alike deluded, only they are more so than we.
---
---
Date: Sept. 1918 Written from Office Attend. Surg. H.S.O.S - A.E.F. Fr. A.P.O. 717
To Edith:
Really I have nothing new to say. They have made the censor rules so stringent that one can hardly any say anything at all anymore. I am apt to break over frequently and slip in enough to refresh my memory when I get home. Because we are not allowed to keep a diary.
---
Date: Sept 28, 1918 Written from Office Attend. Surg. H.S.O.S. - A.E.F. Fr.

... Don't tell me this game is not worthwhile! There are not a few boys (and now and then a girl) that think I'm a pretty good sort of a "Daddy" to have around. ...
---
Date: Sept. 30m 1918 Written from Office At. Surg. H.S.O.S - A.E.F. Fr. 7:00 A.M.
To Edith:
As I had not been to a protestant meeting since coming to France, and I wanted these Catholic friends to see a real American Protestant service. They often expressed themselves as disgusted with the icy-cold formality of the protestant service in Paris. Well the program was just simply perfect. Dr. Becthand's prayer and sermon were simply perfection itself. (Thought I was listening to Mr. A. Quayle once more). I know the folks must have enjoyed the music.
When I asked Miss LaJoy if they enjoyed the service she said, "yes we enjoyed it because we saw you were having so good a time. " She asked me if I prayed for her in my church as she does for me every time in her service. So I asked if she did not pray during the protestant service. No she could not pray in such a place. Next Sunday Bishop Wilson is to preach in the same lovely little chapel. I've told this couple they must go with me to hear this man, since he belongs to M.E. Church. They are wondering why so many protestant denominations. "We have only one Catholic Church." Well I told her the time would come when there could be neither "Catholic" nor Protestant" only one church. She cannot see it that way. Asked her if she were going to heaven, she hoped so. I insisted there might be Protestants there. I half believe she doubted it. So I remarked that she better make sure of heaven, for, according to her own arguments she could find more Protestants in the other place of habitation. All of which goes to show that we are only creatures of environment, she catholic, you protestant, others nothing at all. Dr. Bectham laid great stress on fact that God is in this war to overthrow evil and from it will result a greater good to mankind. Simonne wished I might have him name one good thing that can come to France because of this war. And if it is good that God is after doing and He has anything at all to do with this war, why does he permit all this evil and suffering to come to Belgium and France and Serbia, and other Allies. You answer that question please for I cannot. I see more of suffering in any one day in Tours than I ever see in Fairfield in one year. And all directly due to the war.
---
Made a Major
Shall I tell you that I accepted a commission as Major, M.C. U.S. Army today, (October 1st) I don't know positively, but I'm certain mine is the first promotion from among the bunch of 200 M.D.s who came in my bunch across the pond. It is the 1st one in my office, though I surely believe there will be more get them in a day or two. Sweetheart, are you just a little bit glad for me? I've really done my very best here so far, and you must know I appreciate the work of recognition. (Then too, it will mean $67.00 a month.)
You were worrying about Paul. Please quit it. I would be ashamed to own him if he did not wish to put the whole weight of his energies into this task of putting the Hun back into its own territory where he belongs.
---
Date: October 5, 1918 Written from H.S.O.S. - A.P.O. - 717 - A.E.F Fr. 6:30 A.M.
To Ivan:
... I've anything new to offer Ivan, only that you are often in my thoughts. I covet for you always the very best gifts. One of those gifts, contentment with the lot that is yours. Pure motives and high ideals and then strive your "darndest" to attain them.
---
Date: October 5, 1918 Written from Office Attending Surgeon H.S.O.S. - A.P.O. 717 - A.E.F. Fr.
To Edith:
Edith, it has certainly been very gratifying to me to receive so many warm congratulations on my recent promotion. A lot of my friends are still calling me "Capt." and that sounds natural, but I am sure pleased with the maple leaves. Mr. Brown who is one of the foremost Y.M.C.A. workers here, surely seemed pleased when I went to his hotel tonight. He said I would be wearing a pair of little birds some of these days. But he knows little of the way promotions are made in Medical Corps. And the few, very few comparatively who beyond Major. This will give me a salary of $250.00 Insurance $ 9.90

10% increase Allotments $150.00
_______________
Foreign Service 25.00 $159.90
Commutation 5 rooms 60.00
Heat for one room abt 5.00
_______
$ 340.00
159.90
_______
$ 180.00 is my income.

I ought to send you close to $100.00 a month from now on while I am in Tours.
---
Date: October 6, 1918 Written from Office Attending Surgeon H.S.O.S. - A.E.F. Fr.
To Edith:
... Then I wrote Ivan and Paul a few lines before taking the little Dodge roadster to make the morning calls. (Do you know, one of Dodge Bros. sons was killed in aviation field near here) (I was there this afternoon). On Friday night I saw the other fellow who was with him in the wreck, at our camp hospital this morning. Got through with the calls at 11:45 and with the Ford, and Wilson for driver, Lt. Strickler and a Miss Wade and Miss Owen, our red Cross nurse at the infirmary Hospital, went up the Loire to Prof. Havet's home where was a banquet in honor of the occasion of my being promoted to the rank of Major. We found the Prof., his wife, grandma Popovitch and the two grand children (Helen and Vogaslava) were there to welcome us and in a little while Dr. DeMarville and his assistant came in also.

They have a lovely home and gardens. The rooms all most comfortably and tastefully furnished. Think I've described one or two of these dinners before.
They served three kinds of wine. One was especially old, that they reserve for all special occasional It was of the 1893 vintage. When I told them that was the year of our marriage they were more than pleased and drank a toast to "Maj. Bentz and his wife and family in America, and his safe return to them after the war". Today's telegraphic reports are to the effect that Germany, Austria and Turkey are asking an armistice for discussion of peace. Did you ever hear of, or can your mind conceive, anything more heinous or devilish than the audacity of those demons presuming to talk peace with their armies in foreign soil? Get the cut-throats out of Belgium and France and Serbia and Italy before we even think of talking peace.
[Ed: what follows I found striking, in fact it made me realize that World War II and World War I were essentially the same war, with a small interruption. The fact that this was written before the end of World War I makes it a bit more powerful.]
How I wish you could have sat in Prof. Havet's home with me today while he narrated the things that led up to the war. The Prussians have been teaching and preaching the superiority of their race for 100 years. Pan-Germanism has been their dream for generations. Since the Franco-Prussian War, they've been preparing for this very war. They have planned to celebrate the 100th anniversary of the liberation of Prussia from Napolean I in 1813, by a war for the spread of that Germanism.
They asked Italy in 1913 to join them (Germany & Austria) in a war against Serbia. Italy refused and so broke the Triple Alliance. This delayed the war until 1914.
Nobody thinks the murder of the Crown Prince had anything to do with it. It was hardly a good excuse. Then they pretended to offer Belgium immunity if she permitted their armies to pass peaceably through her borders.
She could just as well have attacked France directly. But she knew Belgium would hardly acquiesce and so they would get Belgium at one fell-swoop by the right of conquest.
Had Belgium not interfered they would have conquered France and in due time Belgium, Italy, Russia and by slaughtering the best blood of these nations they would erect a new German race upon the ruins.
They are bandits and ruffians, and thieves and murderers. Long before the war they had spies all through these countries to locate the residences of the leading citizens. And by a code system from headquarters they could direct the slaughter of these influential men and their boys in every town and city occupied by their army.
Even now the devils, while talking peace, will burn and lay waste any hamlet or village or city before they evacuate it in their retreat.
It is no one clique or set of men who are to blame. It is the entire German population. They were and are mad-war mad. It is not Protestant nor Catholic or Political. It has a mystic and deep seated cause. If they can with one fall-swoop control all continental Europe and then in ten or fifteen years, another war to take England and in after years one with America and you would see their dream of Pan-Germanism come true. And German culture be forced upon the entire known world. It has really been drilled into them the conceit that this is a righteous war they are waging.
Prof. Havet and wife are lonely, oh, so lonely at the loss of so many of the sons of France. Think I can recall from this letter if you preserve it, some of the things he told.
---
Date: October 17, 1918 Written from Tours, France. 9.00 A.M.
To Edith:
If I ever write a letter using capital letters where small letters should be, you can fit them together, for my location. And no Hun can be any the wiser, should the letter get into his possession.

[Ed: handwritten on typescript, not sure by whom: On his way to Front - Note: Increasing Tension!]
---
---
Date: October 20, 1918 Written from Thésée , France 8: 00P.M.
To Edith:
Another convoy of 50,000 men landed last week and 3,700 out of the bunch died at sea from grippe and Pneumonia. One Regt. last week lost 42% of its strength. So, when you people celebrate our victories, do you appreciate at what cost in suffering to many, and many an American home, this victory was attained. You speak of the baneful influence of the war on our American soldiers. Do you know that many of those who have the most horrifying experience will not be alive to tell the story?
---
Date: October 22, 1918 Written from Thésée, Fr. 7:30 P.M. (On the eve of assignment to Field Service)
To: Ivan:
Dear Ivan: Tomorrow I get orders to a division at the front. This is no letter only thank you for your dear sweet good letter.
You did not tell me out frankly what you intend to do during your furlough, but anything you do will be alright with your father, who loves you and who wishes you every good thing. "God will take care of you."
Cut out that coming to France stuff in the winter time. The risks are too great in the holds of those crowded vessels in the inclement weather.
I was about 26 hours on the train when 6 would have been too long. But your letter and the ones from Kenneth and mama were reward sufficient for the effort. And now "Good Night".. And remember that whatever comes or doesn't come, you have the love and esteem and all good wishes from your Daddy, who knows that you will play the man. G.H.B.
---
Date: October 23, 1918 Written from Thésée, France 3: 00 P.M.

To Edith:
I may leave my trunk, mattress, cot and hand grip with Simonne LaJoy, whose address after October 1 will be 53 Rue Georget, Tours, France. She is a lovely child. Speaks English well and I want you or Fern, or Paul, or any one of you to write to her. She belongs to a lovely family and as I am from now taking a leap into the uncertain and dark abyss of the unknown future. Who knows but that this girl may be able to get you messages which otherwise you might never get? If I can get in touch with Prof. Havet in Paris, I shall be writing to him.
---
---
Date: October 25, 1918 Written from Tours, France
To Edith:
From now on Sweetheart I'll be in the advance some where things are doing. And I want you to know you were never sweeter and dearer to me than now as I go. Good bye!
---
---
Date: October 27, 1918 Written from A.E.F. Fr. 78th Div.
To Edith:
Presume Kenneth is doing good work in school. Is he sweet on Hazel yet? I hope so. I sent Ruth and Hazel each a souvenir (handkerchiefs). Also one to Ellen Hodge.
Thank Mr. Zig for his letter to me. He always told me he couldn't write, the rascal, he did fine. I could wish he might do it some more.
What our final assignment will be in the Div. I cannot foretell. I have asked no favors, nor shall I ever in this mans' army. I've gone so far in my 47 yrs. with a firm faith in an abiding assurance that "Our Times are in Thy Hands!"
From this time on, my own dear sweetheart, I want you to carry your head high and unashamed of the part of your boy shall play. For I'll be in no more swivel chair positions. But Edith, keep a prayer in your heart of hearts, always for your boy. And for the others who are with me. Think I told you I would likely be in South of a certain objective city. But the rail head of my Div. is right west of that. How far I must go by truck after that I do not know.
Here a maid come in and insisted in our closing the shutters and portiers, lest the police get us. The city is in utter darkness. Owing to fear of Bosch planes.
---
Date: October 27, 1918 Written En route to join 78th Div.
To Edith:
... But I'll be 130 miles north of where I told you I was headed. Some of these letters may never reach you and so I repeat stuff. And will try and get facts to you concerning myself. As for things military that you must dig out some other way.
---
| | |
| --- | --- |
| | |
| Camp Hospital at Is Sur Tille | Is Sur Tille today |
---
Date: October 28, 1918 Written En route to new assignment with 78th Div. 4:00 P.M.
To Kenneth:
You can never know how glad I have been for your dear sweet letters. I am hardly in am mood to write now, but just to let you know that I have passed out of the Zone of safety and am in the zone of the advance. In another 34 hours I shall be where all travel is done after nightfall and any food and sleep we get will be in day time.
But remember, your daddy has become one of the checkers in the front row, but in this case their sacrifice is bound to win the game. And this old world will be just a tiny bit more heaven when that hell-fiend of a Hun gets what is coming to him. May God be with you, and yours, and ours, always is the wish of your Papa.
---
---
Date: October 31, 1918 Medical Detachment 303rd Engineers Amerc. E.F.
To: The Adjutant, 303rd Engineers (Subject) Historical Record.

1. I was born Jan. 9th, 1871 at Dillsburg, Penna. My father is Andrew G. Bentz, now of Ashland, Nebraska. My mother's maiden name was Catherine Hershey. Both of my parents were born in York County, Pennsylvania, of parents who were also born in the same county.

2. My early education was obtained in country schools, in the Silver Creek, Nebraska, High School, one year at Lincoln Normal University, two years at the Nebraska Wesleyan University, and three years in the Kansas City, Mo., Medical College. My childhood home was in York County, Pennsylvania, and Ashland, Nebraska.

3. My professional experience consisted of six years as a teacher in Public Schools and sixteen years in the practice of medicine and surgery. I was Principal of Silver Creek, Nebraska Public Schools 1896 to 1898 and in Salem Nebraska, 1899. I graduated from the Kansas City Medical College in March 1902. Practiced medicine in Plymouth Nebraska to 1904. In Swanton, Nebraska to 1911 and in my present home, Fairfield Nebraska to Apr. 2, 1918.

4. I was commissioned as 1st Lieut. in the M.C. Nebr. N.G. February 14, 1913, as Captain February 13th, 1916 and resigned same March 26th, 1917. This Guard experience took me to the annual encampments of the Infantry Regiments as battalion surgeon.
5. Attended ten day medical officers training camps at Ft. D.A. Russel and at Sparta, Wisconsin in 1915. Was at Camp Llona Grande, Texas with the Nebraska Field Hospital in Federal Service from July 7th, 1916 to March 3, 1917.
6. Commissioned Captain, M.R.C. Jan 27th. 1918 and assigned to M.O.T.C., Ft. Riley, Kas. April 2nd 1918.
7. In charge of Detachment 1 June Automatic Replacement Draft, medical, I left Ft. Riley, May 30th 1918, for overseas. Arriving in Blois June 29th. I was assigned to duty with the Attending Surgeon ay H.S.O.S. Tours, July 3rd, 1918, where I served until assigned to duty with the 78th Division on an order dated Oct. 21st. 1918. I was assigned to duty with the 303rd Engr., Oct. 29th.
8. I accepted my commission as Major M.C. on October 1st, 1918.
(signed) G.H.Bentz.
---
Date: November 2, 1918 A.E.F. Fr.
2.00 P.M.

Dear Kenneth: How are you today? I seem to be living over my child-hood days again, in the hills and forests of old Penna. But lad, these are battle scarred hills, believe me. The place would be full of interest for you. There are miles and miles of hills and valleys and woods, here you could collect souvenirs by the ton. I would like to load upon them myself but, child; I have no time, nor any space to carry same.
The cities, towns and houses are merely masses of ruins. The fields have not been farmed for 4 long, long years. Except little garden patches where Jerry has strawberries, cabbage, rutabagas, turnips, etc. growing (which by the way is furnishing greens for our dough-boys).
I am highly favored in that I have a splendid horse assigned to me. I ride from 4 to 7 hours a day to see the different units of my Regt. And this life in the out-of-doors will have to go some, if it gets me.
Kenneth, you would have a wonderful time here, could you witness the "Messages of hate" which Jerry is getting, and in the only language that the infamous old hellhound can seem to interpret.
I've seen them march out of the woods as prisoners, compelled by the guards to carry some of the machine guns they were operating against their captors a few minutes before. Then I've seen them come out with the prominent part of their dorsal extremity blistered with mustard gas. But, child after you're here a while, the kind of a Jerry you'd rather see is a dead one. He is the only one that is safe.
Tell your Mama (who was once my sweetheart. Is she yet, I wonder?) she will have to excuse me from writing her today. These few lines to you must suffice for both. And the time I take writing them will take me just that much into nightfall riding in this rainy day. Much I would gladly say, but censor rules are unmerciful and time just now at a premium.
But lad, I have an assurance that seems to stretch across the thousands of miles which lay between us that "all is well with my loved ones" as it is well with me. For all of which I am grateful and appreciative. When shall I hear from you, or any of you, again? I wonder.
Ivan had hoped to go to Nebr. on 15 day furlough in Oct. How I'm wondering if he got to go. I'll wager you had a royal good time if he got home.
Then there is another thing I'm wondering about and which he only hinted at. Is he only one now? Or is he "two in one?" Either way will please me. So, don't know why I cannot be trusted with interesting secrets, touching the Bentz tribe.
I would be delighted to see to Paul in his military uniform. Folks here say that he looks like his daddy, judging from his photo (on the Bob Mackley form). By that sign I know your daddy is no overly homely specimen. And now son, I don't know when I may write again. But meanwhile be good and "May God bless you and yours and ours."
Pappa GHB.

(note) One Jerry ran away and left his tag. I'm mailing it to you. Ha! Ha!
---
---
Date: Nov. 3, 1918 Written from Hq. Med. Det. 303rd Engineers, U.S. Army A.E.F. Fr.
To Edith:
This evening of Sunday Nov. 3, 1918. The experiences of this day were certainly a new chapter in my life history. But tonight I am in a room with a fine, cheerful fire in the hearth. A medical Capt. and a dental Lieut. for bed-fellows. Three litters for cots and a 4 blankets each, while we wait for our bedding rolls to overtake us. Edith I've been out in the woods some today. The desolation of it reminds me of the Rio Grand Valley. The stretches of lovely pines reminds of the beauty of Northern Minn.
Wild strawberries, blackberries (plants) in profusion.
Jerry has gone through these French forests, preserves that were held for generations, and has cut out all the heavy timber. So, that it will be another century before France gets benefit from it. The hills and valleys and streams and rivulets and springs, remind me of my Penna. boyhood days. The wildness of is worse than any of the islands of the Platte that you or I ever saw.
Today we journeyed through areas where Jerry did not take time to bury his dead. For a week, he has not buried his horses, but now he is sure in a hurry to get out of the way.
But the treachery of the bosch exceeds anything the imagination of any ordinary beings' power to conceive.
I rode my horse so hard yesterday that I walked about five miles today and let an orderly lead "Topay" (as I named her) when were the causalities going by our way. Only A killed [Ed: no idea what this means].
But Edith, with all the talking going on I cannot write. And I am weary and in fine shape for sleep. So you must not call this a letter. This is only that you may know all's well with me. And I'm thinking of you, and how we can fix a real honest to goodness hearth in our dining room to enjoy the cheerfulness of the glow.
What are you doing this evening? Reading the news I presume. We can only surmise it. But I'm sure it will be good.
Good night and Sweet dreams, is the wish of Your G.H. Bentz
(J Div. coming in to relieve us had all camp fires burning and Jerry planes dropped bombs and killed a Maj., 2 officers, and 4 men near Anthe.)
---
Date: Nov. 5, 1918 Written from 303rd Engineers, A.E.F. Fr. 3 P.M.
To Edith:
Am writing this in a town where Jerry left at noon Sunday and at 2 P.M. our troops came in to the rescue of starving civilians. Old men and women and little children. The girls and young women (80 in this town) and all able-bodied boys above 18 were taken along. They left in a hurry. In fact one went without his right leg. I saw it in its stocking and boot. Then there are both Bosch graves all brand new. And dead horses by the hundreds. So I guess he must have carried a lot of dead with him. Because where horses get killed, men also get theirs. If only some of their boasted cities on the Rhine could have same treated these have received, my heart would come to content more easily.
---
Varrennes, 1918
---
Date: Sat. Nov. 9, 1918 Written from 303rd. engineers, A.E.F. Fr. 3 P.M.
To Edith:
Yesterday our chaplain was called upon to bury a Lieut. and his 1st Sgt. and two men, whom our boys took out of the water in a stream.
They evidently were running from shell fire the day after we passed. They belonged to Obr. E who were going up to take our place on the front line. A cruel fate has decreed that the same wires which flash the news of peace will also give some homes the intelligence that their boy, or husband will never return to them in this life. Unless it's true that "He has put Eternity in the heart" there never be a meeting. Then were this life vain indeed.
I've been through mustard gas area for 2 kilos. Brinelles was to be our Hdqrs. but we get conflicting orders 4 times in one afternoon. I rode into it twice once afternoon. 15 min before I got in, the chauffeur of a Colonel's car was disemboweled by shrapnel and one of my men got a chunk taken out of the calf of his leg. Am just jotting down enough to bring to my recollection of events as they transpired in this drive, where our sector pushed ahead of its objectives every day after the 1st.
If it's true that the war is over the censor will not likely open this. And its scant satisfaction which any Bosch spy could get out of this.
---
---
Armistice
Date: Nov. 12, 1918 303rd. Engineers 78th Div. A.E.F. Fr.
To Edith:
Dear Edith: Is it all true, or is it only a dream, this rumor which the papers seem to confirm today that the war is over. Any way my heart rejoices for the boys who would have to rough it through another winter on the front. To say nothing about those who would be killed and the greater number who would be maimed for life.
We are five days march from what was the front when we were relieved by another Div. Rumor has it we are to entrain for the South of France. But now that the war is over, no telling what will happen. Maybe we will eat our XMas dinner at home. Wonder of wonders! What a banquet that would be! We might be sent into German territory as army of occupation to insure Jerry's complying with terms of peace. We might be held in France pending developments. But in either event we will know which, before these lines reach you. Edith, I know you are glad. But after what I've seen the past two weeks makes me wish Jerry could have had some of the smashing he's visited on his innocent neighbors. But it's better so. We are in a very little village tonight. I am the only man in the Regt. besides the Col. who is billeted in a private house. All the rest are in French wooden barracks. I have my Capt. Dwyer M.C. with me and we are writing by a candle which will burn out in about 30 min. and then we must go to bed.
We have a little wood stove and two orderlies who do the foraging for wood. It's a whole lot different, sweetheart, whether you are a Major or a Pvt. in this man's army. I have from 7 to 9 blankets in-doors, where the Pvt. has three put on a barracks floor. I'm glad Ivan did not have to go through any of this. Even though, it must have been a wonderful experience.
When the censorship is lifted we will be able to say some things that will be left unsaid now.
I am mailing you a clipping from Stars and Stripes where I underscored some of towns we've been in on the advance sector. Maybe your map will locate them.
I got my pay yesterday and will send you $100.00 in a very few days. (Soon as I get to a Y.M.C.A or an American Express office. I just mention it now so that you will be looking for it by Dec. 15 or 20.)
That reminds me, do not send me any Xmas packages. So much of that stuff is raffled or lost in the transmission that I would hardly get it anyway. But if you have any new snap-shots, send them by all means, as often as you can.
You may learn as early as I do when our Div. goes home. And remember you are to come to New York to meet me, if we are mustered out at Camp Dix. N.J. (Where the Div. mobilized). If I'm not mustered out till I get to Ft. Riley it would be different. Because, you would not be permitted to ride on a military train. But I'm sure it will be N.Y. And you come in a Pullman sleeper to meet me see? We will take a little run to Washington and to Dillsburg, Penna. before returning to Fairfield.
All of this may come soon, and it may not be before spring, who knows.
This Div. has done some of the very best work and so ought to be the first to go home. In that event, it was a good stroke of luck for me to have been assigned to it.
But we'll see what we see when we do see. Meanwhile accept my best love and wishes and hugs and kisses. And have a good time, keep warm and comfortable this winter and keep a place in your heart for your own G.H. Bentz.
---
Date: November 14, 1918 Written from 303rd Engineers, 78th Div. A.E.F. Fr.
To Edith:
Am writing you from same place I did the 12, and wrote Kenneth yesterday. Prospects are for five more days here. "We should worry". I have a large room with a stove and good bed, two large windows in the East wall, a good mirror to shave by, an orderly to keep the fire going and clean my boots. This is 1 P.M. and all work for the day is done. They say the war is over. Is it true? Can you appreciate just what that means? Nobody can expect those who have lived in this regions for 4 years. And they seem dazed. They can't seem to comprehend it all. In fact to whom it is now over. They are here to witness the wreckage and waste and desolation. And their families broken up. Most of the youth and vigor of the manhood gone not to return again. The womanhood despoiled by the horrors of it all, or ravished by the Hun.
My heart longs to get away from it all. There is such fine feeling of calm, and rest, and relaxation, with me, at the thought that our boys are no longer being rushed into those machine-gun nests and artillery controlled roads, and paths and traps, and mines that infested every road of the forests in the Argonne, that I just seem overwhelmed and I don't seem to care to leave my room. Not even enough energy to want to write a letter. Some of these families can be seen already returning to what was once their home. The mother and the children pushing a cart or a baby carriage which is loaded with all of their earthly belongings, trudging along through the mud to their home town. And 99 families out of every 100 families will not find even a single wall of their home intact. To say nothing of a room, or part of a room which might afford shelter. And winter is coming on. But then the compensating thing is, our boys will not have to rough it in the cold bleak woods this winter, under constant shell fire, the source of which they can never know until hundreds of them have paid with their lives, to find it, and silence it.
You may read of the Argonne forests, of Grand Pre, Anthe, Sedan, and other places. You may note that I've been there once on a time. The Hun is routed but he sure took his toll of American blood. Put it down in your note book that France was just whipped and ready to quit when Americans came in and in July 17 won at Chateau Thierry and Soissons.(You remember I helped to dress wounds of their wounded) against the Prussian guards and picked men of Kaiser's army. Then the morale of the French and British began to brighten. And the incoming of American soldiers by the hundreds of thousands and supplies in quantities of unbelievable magnitude, kept raising their spirits to a point where nothing but victory could be even thought of. Americans never once made an advance on an objective that they did not gain it and they always held the last inch they attained.
These old, schooled, and tried soldiers of all Allies and of the Hun, could not understand the secret of it. They were astonished beyond amazement. Do they show appreciation? Well, I should say so. And fight! These French sure did make our advance possible, by the way they supported with their artillery.
But Sweetheart, I'm talking war again. And I do not even know that the censor would permit the letter to go through, should he chance to open this. So here I quit.
Dr. Dwyer & Dr. Russel are with, me and on their cots, arguing with the dentist Dr. Delong.
I am worried for Clay Co. because their Div. (The one Gaylord is in) must have been somewhere in the thick of it, same as our Div. If its true then Milt Lewis is not the lone star on Fairfield banner. Because that last drive was one fought to the hilt.
Rumor has it that officers carried their watches in their hand on that last day and did some of their most merciless slaughter right up to 11 A.M. But we are in just one little area and the whole line was driven the same way. History will have some interesting things to say me thinks.
Wonder, what are you doing today? Edith, are you writing me once in a while? How is influenza in Nebr.? Did it ever get bad like in Boston, New York and Philadelphia?
Enclosing a few clippings for Kenneth. Tell him to write me a letter if he has time. Is he making any more 4-minute speeches on the war? I will try and bring him my helmet and gas mask for a souvenir. If not that, then he will have to be content with his old daddy as a souvenir.
Love from one who has loved you since Oct. 3, 1889 - G.H.BENTZ
---
---
Date: Sunday Nov. 17, 1918 Written from A.E.F. Fr. 303rd, Engineers 78th Div.
To Kenneth:
I got up at 3:30 this morning. Now it is 6 and two train loads have gone. The "Headquarters Co. & train" go later. I will have a 4-mile horseback ride at 10 o'clock to where we load. Will get a sandwich and cup of coffee at noon for dinner and then "all aboard" and the first lap of our journey home.
My little man, you cannot bring yourself to appreciate all that means to your daddy. There was no reason why I should not have slept 8 or 10 hours, in a feather bed that is just 4-ft from where I am writing this. But in the evening they talked till 10 and all through the hours of the night someone was stirring about. We will soon be back to civilization, away from the trenches, dug-outs, shell-holes, barbed-wire entanglements, skeleton trees, and ruined cities (which compel tears at every recollection of them.) and uncultivated fields. All of this is very evident here yet where we are six days march out of the lines.
I saw a bunch of long whiskered, thin-faced , variously and variegated colored clothed Frenchmen returning yesterday. They were in Bosch prison camps. They were smiling and seemed cheerful. But they do not yet realize what a change must have come to their France in all these four years of hell.
But it's all over now, and such a calm and serene contentment seems to pervade the very atmosphere. Even the cedars and pines that line the highway seem serene, though somber, with their foliage hackled off in all irregular and gruesome shapes. The French interpreter for the Regt. says it will snow today. It looks it now. But I do not seem to mind the cold, even though the ground is frozen.
---
---
Start at Bussy Le Grand
Date: Nov. 21, 1918 Written from 312th Infantry, A.E.F. Fr.
To Edith:
This is not a letter. It's just to remind you that I'm transferred to above organization and will move tomorrow. This move is only about 6 kilometers.
It will have more than double the number of men that we have. And so, of course, more work and greater responsibility. But "We should worry".
I've learned, I think I have any way, that in the army as in civil life whatever comes or doesn't come to do the best I can. So there it rests. I could have wished to stick with this bunch permanently, for I've sure made friends among them. But, I'll proceed to some more friends in my new location.
Tonight I have the hardest cold I've had in the army. Thanks to a Ford that stranded me for two hours by the roadside in the cold. Capt. Whitehouse insists on tagging me for the hospital but nothing doing. They will not get me into the S.O.S. by the hospital route while I'm able to pull myself together.
I went to the town of these pictures today. And learned that, after all, our division will be held here as a part of the "army of occupation". All our fond hopes blighted in one fell swoop of a rumor.
But again, "we should worry". Uncle Sam will get tired of keeping any considerable army over here for very long after peace is signed. And a trip home in the spring instead of mid-winter would not be entirely without compensation.
I am getting this new job because some Capt. was incompetent to hold down a Major's job and this Capt. being a favorite of "powers that be" was slipped into my job here and I am relieving a Major who is to become inspector of the Div.
That's the way it goes in the army.
Did I tell you in the recent drive we lost ASXS men more than ORM of them directly under the sod. So you know we showed Jerry some new tricks. But we paid for it. Even though it finished the war which might have hung on indefinitely were it not for American tactics and vim.
How happy and contented my heart at thought that our boys need not put in another cold winter on the front in war-time conditions.
I've been looking for a letter from you Sweetheart, but now it's likely to be a week or two more before I get word. Meantime I'm hoping you are well and comfortable. Did Ivan get his furlough? Or was he sent to France? How is Paul making it in School? Does Kenneth ever write me? I'm saving my gas mask as a souvenir for him.
Good night and sweet dreams. Love from your G.H.B.
---
Date: Nov. 22, 1918 312th Inf. A.E.F. France 9: P.M.
To Kenneth:
Fearing that your mama might grow tired opening so many letters from your Daddy, will you permit the pleasure of a little chat with you. As you see I've been transferred to another organization. Reported today and find my men billeted in ten different towns. I have four doctors and two dentists to help me. It will take me all day to make the rounds, if I'm obliged to use a horse. I hope soon to be assigned a Ford ambulance.
This Colonel seems very fine. He is billeted in a magnificent summer home of some wealthy land lord. The Lt. Colonel, a Capt. Adjutant, the Chaplain, and I together with about 2 servants and three orderlies, constitute the family.
A five-course dinner tonight served with up-to-date style & all the fixings.
---
Date: Nov. 27, 1918 Written from 312 Inf. A.E.F. Fr. 6:00 P.M.
To Edith:
... You say the meetings are closed. I'm glad of it for your sake, because I know work too hard in meetings. And there again I often find myself wondering.
Christianity is not a profession, it's not complying with a certain creed or ritual, or code of ethics, it is a life. The last two chaplains I've had are Catholics. In the other Regt. he is a veritable devil, a regular joke. In this one I know he is a sincere honest Christian gentleman. Being a Catholic is nothing against him. He is only a step or two more deluded than we who boast Christianity. Then why are we any better than he.
For "we have all sinned and come short of the Glory of God", so we have nothing on the Catholic.
Then plenty and plenty of fellows I butt into every day are living the Christian life. Not pretending it, nor making professions of it, other than their very life and example.
Speaking of hard things to bear being so unequally distributed. The fact is you and I are among the favored few in this regard. The only hard things we have are of our own making. And we can either continue or just drop off the load and forget it. That's all there is to it.
What of those who lost sons in this awful war, who suffered in the frightful scourge of influenza, who have children with bodies or minds ruined for life? If it is too much work, well let's ease up, that word is only a relative term anyway.
You ask about my mail. I presume it will find me in Fairfield some day from the dead letter office. Glad for clippings from Auxilliary. Do it some more please.
Of course no newspaper outside of an envelope is apt to reach me.
I am sure sorry for your fall on that cellar steps.
... Don't tell anyone I said so. But let me whisper to you, "Stay out of the Y.M.C.A. campaign drives for raising money for our dear boys. They may be O.K. and doing a wonderful work. But I just don't see much of it in properties to money expended. The Salvation Army are doing more actual good work up on very front than Y.M.C.A when it comes right down to brass tacks.
---
Date: Dec. 4, 1918 Written from 312th Infantry A.E.F. Fr. 10: P.M
To Edith:
... But Edith, I've learned years and years ago that ill-chosen or unkind words do great mischief.
"Boys flying kites, haul in their white-winged birds but you can't do that when you are flying words"
I've said many, many things in my brief life that I should have left unsaid. But at this time, I usually meant them and, so there was the virtue that comes from the element of sincerity at any rate.
Ivan and Paul are drawing wages. So I will not send them anything now. Don't worry about Ivan and his "niggers". If he will treat them the way a nigger should be treated he will get on better and accomplish more than with the same number of white men.
You need not bother writing his Capt. for anything. Rather leave that to the mammas of "Sissies", of which the army is all too full. There is nothing just about war so much which is unjust is occurring all the while. If he is not getting a square deal "we should worry". Plenty more are in the same fix only worse.
---
Date: Dec. 4, 1918 Written from 312 Inf. A.E.F. Fr. 10 P.M.
To Ivan:
Dear Ivan: Your letters of Oct. 14th and 27th delighted me, you may be sure. Glad for the enclosures. I would have sent you some letters to me, but you thought you would be out of Governors Island before October 15th.
Now I will forward a batch to you which, after reading, you can return to mamma. Thank you for your expression of pleasure on learning of my promotion to the grade of Major, M.C.
I have never figured myself as over strong on luck. But when I note that I seem to be the only Major in the bunch of 201 doctors who came with me on the boat, I must admit there is a stroke of good-luck in it after all. Merit alone will never do it. Coupled with that must be opportunity and the correct environment or circumstances.
You want a formula to get a promotion. Now there you are joking Ivan. You are already promoted. Plenty of lads with far better native ability than you and with a better college training than yours, are mere privates as yet. A consciousness of your ability ought to be all the reward you need. I had far rather be a private all my life and retain my self-respect and the good-will of my associates than be any of the grades up to colonel such as some I know. Read Arthur Petry's letter and you'll note that others are discontented. You say I'm to help you out of Governor's Island and into the army.
Developments have been such of late as that you may be out long before I am. At any rate we will all be out soon. Ivan I came to this Regt. of Newark N.J. last week. Have four new doctors and one of the old ones away on leave. (Seven & two dentists now). So you may know I'm busy. And you will forgive this brief this time. I'll do better soon. I went through Paris on way to Tours after my baggage Sunday.
Did I tell you my Regt. is scattered in ten towns. So the rest of my pants gets saddle warn. This town is Bussy le Grand, ten miles from Semure 40 mi. from Dijon, in state of Cote d'Or. Am planning a trip to Nice on Xmas. Love from Daddy.
---
An image from a period postcard of Bussy Le Grand; hard to make out, but the some of
the geography comes through.

A more modern image of the town. This image is watermarked in some way, but I can't read it. It gives a sense of the town, in any event.
---
Date: Dec. 9, 1918 Written from 312th inf. , 78th Div. A.E.F. France
To Kenneth:
I had been going with an old parish priest to see a number of patients and it is marvelous, how they would get well, or at least improve, as if by magic under my pills (of Aspirin or C.C. or C & Q etc.) Until he took me to this old mother. Then I said at once, "She cannot live. She has pneumonia. If you note how pneumonia handles our robust young American soldiers, surely you would know that this old grandmother can't make it."
Then I worried for fear she wouldn't die and so I would lose my reputation as a prognostition. But she's gone to where all departed spirits of the Catholic faith do go. And to my notion, where they go they find Methodists, Congle, Campbellites, etc. But "we should worry" on that score. I didn't think my 1st page would be dealing with funeral.
Here we have a battalion bath-house in operation, after a week or two of my scrapping for said luxury. Many of our boys have not had a bath since Sept. 15th. They have, in consequence, had a good many other things, which while not exactly friends, yet to quote scripture they "sticketh closer than a brother".
---
Date: December 13, 1918 & Friday (Written from Bussy le Grand) 312th, Inf. 78th Div. A.E.F. Fr.
To Edith:
Dear Edith: - Am still at Bussy le Grand. But, did I tell you, we have our full quota of doctors and enlisted help in the detachment, with plenty of motor transportation (and a horse to ride on when I care to), and everything working smoothly as if oiled. So I presume its about time for me to be transferred or for us to move or something.
I was planning to see Nice & Monte Carlo and Italy, and Mediterranean Sea about Xmas time but on date of Dec. 10th I was made a member of General Court Martial board and so am excluded from leave of absence. However, I hope to see the court dissolved after several cases that have recently accumulated have been tried. And then I must spend a few francs to see Sunny Italy and Southern France. Surely I must not come all the way to Europe and not see that. But the rumor today is that we start for the States about December 19.
---
Date: December 15, 1918 312th Inf. 78th Div. A.E.F. Fr. Sunday 2:00 P.M.
To Kenneth:
Dear Kenneth: Please come and join my party. I spent the morning riding around in these hills of Les Laumes, in a little Ford ambulance. Had my dinner and now I'm up in my big bright sunshiny room for a rest and to write or read Corporal Cameron. No noise here except the sizzling of some chestnuts that I am roasting by the wood fire in the hearth.
I ought to be perfectly happy, for you see I have had four letters from you in the past six or eight days. And letters from all my other children and their mama.
This letter business is somewhat like food to soldiers under active campaign conditions. Its either a feast or a famine. Just now I'm enjoying the feast of good news from home. Good because you have escaped suffering from the scourge which visited America. (Excuse me while I eat 7 big red-hot chestnuts).
And so you won in the "4-minute men" speeches of your class. For that I want to congratulate you. But that does not surprise me in the least. I rather expect the very best of everything of you. And laddie, I'm not in the habit of being disappointed in my expectations.
Give your very best, and the best will come back to you in way of reward. The story of the talents must certainly be a true story even though critics may try to say that much of what is portrayed in Holy-writ, is only tradition.
They say there are only two classes of men in the world, "Those who lead and those who are led." And the difference in these two classes is merely one of energy and determination and not so much a difference in ability or capacity or capability. Kenneth, I'm delighted to see you interest yourself in public speaking, and in teaching Sunday School Classes, and in Boy Scout work. The bane of my life is that I never took interest in subjects like rhetoric, literature, debating or public speaking.
What good, after all, is all of your learning in the schools, if you do not acquire the art of expressing it to others?
But, pardon me Kenneth; I did not intend to lecture you. For you doubtless, get plenty of that. Even though, as your daddy, I might claim the right to volunteer a bit of advice. Your device as a "fat-reducer" seems quite feasible. I do not need it in my business for I'm not one pound fatter than when I left you. it might be you could install one of the machines at home for other members of the family. I'm not mentioning any names, of course.
Then your fly-killing contrivance may be perfectly alright but it's entirely too complicated for my comprehension. Here in Europe such a machine would have to work overtime. Folks live here like they work, very slowly. I watched a gang thresh oats yesterday. With a horse tread-power machine. A kid cut bands, a man fed the machine, two carried the bundle out of the stone barn to the machine. Three took care of the straw, tying it in bundles, and carried it away. One took care of the grain. He hung an empty sack to the spout while he carried the full sack into the house. I did not go in to see where he stored it, whether under the bed, or in the garret, or behind the piano, I don't know. I only know that, that machine running 24-hours in the day, could not thresh oats fast enough to see the horses of one Infantry regiment. I don't know what a Cavalry Regt. would do for forage if they had to depend on the local supply.
If France is mostly like the last several hundreds of miles I've seen I don't wonder the Dutch came near getting their goat, when one sees a really fine field, it is planted to grapes, instead of to food producing plants. The women are the ugliest worn-out looking bunch one could imagine. At 30 yrs. old their teeth are all out and they are so wrinkled and care worn that you would take them for 80. If mama reads this she'll think I'm over solicitous for the women. But there are no men here except Americans. Some very old men, and a few younger sickly looking runts. This is a rather harsh picture, but it's true. What the whole of France needs is to have its entire population dumped into America for six months, so they could get their eyes open. Then they might come back here and really live. For surely nature has been lavish in expenditure of picturesque scenery, and climatic conditions to promote the most luxuriant growth of vegetation.
But child, if they went to America, nine-tenths of them would never return. They would all be killed off by the swift moving crowds, the motor vehicles, fly killing and other devices.
But Kenneth, maybe I am very unfair in this picture of the French. This little town of Bussey le Grand that don't look like it ought to have a population of 600, has had 280 of its men killed in this four years of war. And that state of affairs seems to be true all through this part of France. So there may be a reason why the women look old and worn out before their time and no men, that you would call men, in sight.
Not a few of the men, who are here, are jealous of the Americans. They deliberately stay in the middle of the road and make an automobile slow down and go around them. If were the driver, I sure would butt into them. (Here Capt. (doctor) Traynham came and spent an hour with me visiting and listening to the regimental band concert just outside of our window, and eating almonds, hazel nuts and roasted chestnuts. I went to Semur yesterday and blew in 4 francs ($9-4/5 cents)).
Now it is 4:15 PM and so dark I've had to light the lamp. This has surely been one delightful December day. You can't have any nicer in Nebr.
Your letter of Nov. 3 reached me a week ago. Since then I've had letters dated Nov. 7, Oct. 20, and today one Oct. 16. Thank you for them all. Do it some more. The rumor now is that we start home next week. But child, it's only a rumor. We started home from Llana Grande Texas, a number of times, according to rumor, four months before we actually did go.
Today, I suppose, Pres. Wilson is in Paris. A nice letter from mamma dated Nov. 12. She would prefer a year or two in Tours. Well, I doubt it. It would be a lovely place to visit in. But not to practice medicine in, besides I'm too dense to ever get even a working knowledge of French.
But there is no reason under the sun why she and I cannot visit Tours and sometime, retrace the trip I made from Les Islettes to Sedan. To see the results of that hellish and egoistic old Hun's demonism.
But now good Night, my lad, and may you sleep well and wake refreshed, and ready for a good day tomorrow. G.H.B.
---
Date: Dec. 20, 1918 Written from 312th. Infantry, A.E.F. France 5:00 P.M.
To Edith:
We have a very find Chaplain here in person of father Murphy. He is planning several entertainments in the school-house. And then I will go to mid-night mass in the centuries old church.
I am learning quite a bit about these Catholics, which I never knew before. Everybody in France (So an old priest tells me) is either a Catholic or an Atheist. You see there are mighty few Protestants. Their Bible is practically our Bible, same creed, same marriage and other ceremony. (I should say ours is theirs).
I seem to surprise them with my ability to quote scripture verses. Even the priest must have his book to recite the most familiar parts. I asked Murphy if the Bible should not be changed to meet modern intents and interpretations. "They that wait upon the Lord shall renew their strength, they shall mount up with wings as the "aero planes" etc. should be the modern phraseology of it. I'm wondering if tradition hasn't a big share in Holy-writ.
---
To Kenneth:
Then I went to see one of my men to whom I loaned 400 francs to go on his leave and who has shown a bit of tardiness in returning the worthless, but rather convenient francs. That is one of the reasons why I am not down in Nice now enjoying a week of Sunny Southland instead of shivering in the cold here.
But son, this life is a great game. It is never intended that one should have perfect quiet peace of mind and contentment. A lad here has been "set on" pretty hard by my predecessor, and rather unjustly as I supposed, and to show him that one "daddy" and confidence in him I gave him a loan. He is from a splendid family in New York and if I'm stung well I'm stung and that is all there is to it. But "we should worry."
He will make good and then I will have had all my mistrust and doubt of him for nothing. And his returning it will be to me, like finding it. So I may spend it in a vacation trip. Who knows?
---
Date: December 29, 1918 Written from Bussey le Grand Cote d'Or, Fr. 312th Inf. 78th Div. A.E.F. Fr.
To Edith:
I am afraid Ivan is making the mistake of his life, if he does not go on and complete his education. Other things may be important, but they can wait better than school going can wait. The one mistake of my life has been that I did not get in my schooling at least ten years earlier in life.
Our strength now is about 3800 men. I am responsible for their health and comfort to extent of seeing they get proper attention at sick-call, prompt evacuation to Hosp. if ill. That the kitchens are clean and food properly cooked and in quantity and quality sufficient.
That their billets are desirable quarters for human habitation (Just now I am having a scrap because Company is in town where the only billets are cow-stables or dark attics under leaky roofs. And I am urging the Colonel to move them out of this town. He has about decided to make the 3rd. Bn. which is in lovely billets in Alise, to change locations with the 2nd Bn. in Bussey Le Grand where the billets are a fright.)
The men are supposed to have straw mattresses and 3 blankets. Many have no mattresses and only 2 blankets. So I am busy there.
The men have been up in German occupied trenches and billets and so are 90% (cooties??) I have had a time to get the bath houses and 'de-lousing" plants to work.
Just now there is prospect for 25% of our strength to be provided with bunks (double decker cots with woven wire netting to sleep on). It is up to me to see that these bunks go to companies in proportion of the greatest need. For some French towns give us the very best rooms in their houses for billets and others think any old stable is good enough.
Then we have in this divisional area, a long wooden barracks for each company. But there is no floor in them. With rain every day, it is impossible to keep them dry and having an ideal colonel (from a military point of view) I may help him to success in getting lumber for floors for these barracks.
As yet here are no tables in the barracks. (Just imagine our barracks at Ft. Riley Kansas without a floor and raining almost 24-hours a day for 6 weeks and you have a picture of our condition here so far as the men are concerned).
But another week and I hope to see tables in the barracks. The Y.M.C.A. are putting up a recreation room at the foot of the hill (half way between here and the chateau) so this headquarters Co. and the 2nd Bn., when they left for the front.
The human salvage of the war is not all collected yet. Last week an ideal young sergeant was killed by accidental discharge of pistol in another man's hand. Last night one of our men lighted a lamp which he thought had coal-oil, but it had (through mistake) gasoline. Result severe burns of face and hands and likely a funeral.
About 3 o'clock I was called from this letter to see a French boy. He is about 12 or 13 yrs. old. A son of one of the most highly respected men in Bussey le Grand. Home from school at Dijon, on a vacation. Was out in the woods hunting, accidentally shot himself in the abdomen.
Our ambulance went out with me. We carried him very gently to his home. I insisted upon having a French civilian doctor and offered to furnish the automobile to go after the doctor. They agreed to get the doctor, but on the condition that I do the surgery and have the after care of their boy. When I explained that I would do all for the lad that I could possibly do for a son of my own and that if he does not get well, they must have no regrets at not having called one of their own doctors, they insisted on me taking the case. (Quite a compliment when I tell you there is a fine French Hospital at Alise, only 5 kilometers away. And we offered to take the boy there in ambulance.)
Well, with Dr. Buchanan, the dentist, to help me, and with a little cocaine for local anesthesia we went at the task.
He was hunting birds and rabbits with an old shot gun. The load went off as he was going over a fence, went into him over the sternum and glanced down towards the umbilicus and stopped just above the umbilicus and between the skin and fossa and the abdominal muscles. With a groove director for a guide I made an incision about 4 inches long and in all took about 50 to 60 shots out of the wound. ("bee bees" are what Kenneth would call them.) They gave him some anti-tetanus serum by hypodermic method and put him to bed. The miracle is that apparently not one shot penetrated the peritoneum.
If my guess is correct he will make an uneventful recovery. Then I will have one more home where we will be most welcome should we ever tour France together.
Edith, there are rewards come to one who tries to practice the art of healing, that make the biggest fee ever paid, look insignificant. only, you will say, they do not buy bread and butter.
You not know it, but soldiers must have some kind of pet, a hobby, or "mascot" as they call it. Not a few companies have adopted a Belgian or French refugee. This is a way better than to have dogs or cats about. With me, not being able to have my own daughter with me, I thought to experiment by finding some pretty little girl and treating her just as in would my own daughter if she were here. Or as I would be glad to have some man treat Fern if she and her mama were driven away from home and friends for four years by warn and its hellishness.
My reward was, in being honored by a visit from a young lady who came 400 miles without a chaperone and to where she knew were only American officers to meet her, just to bring as she expressed it a little sunshine and good cheer to her American daddy.
One looks for and expects confidence from those whom one has known a life time. But its surely worth going 6000 miles to learn what the real meaning of trust, confidence, appreciation for kindnesses shown etc. means as expressed by men and women, or children, over here in this war-scourged country. On Xmas afternoon, Simonne and I went down to countess - (I cannot spell her name) to see the chateau.
The Countess could speak good German, Simonne good English. The old lady had us take hold hands (we three) and went through rather a beautiful speech about our representing the three allies nearest to her heart,: America, Belgium and France. She is not so enthusiastic about England.
Nov Edith, it is page "12" and it don't seem like I've written a real letter. But it is only what actually takes place here and is the whole story. Now happy would be many and many an American home tonight if they could only know for a positive certainty that that what news they heard from over here was all of the details of all that transpired. But sweetheart, there will be many, all to many secrets that must be kept by some over here. But sweetheart, there will be many, all too many secrets that must be kept by some over here. (How about those over there?) And I wonder, will they be able to live out the remainder of their sojourn on earth, carrying these secrets with them.
Now and then a lad makes a confident of me and I am reminded of what my Uncle Solomon Bentz once wrote in a little autograph album of mine. "Son, remember that "God knoweth the secrets of man."
Sentences like those have been a great help to me on many occasions when I was a youngster like some of our lads over here. But girlie, I was never called upon to experience what these lads have been experiencing and so cannot say if I would get through any better than they are doing. Any way I'm glad to be here among them and be of what help I may. When am I coming home? Wish I could tell you, but there's a secret I cannot tell.
---
Date: December 31, 1918 Written from Bussey le Grand, Cote d'Or, France
To Edith:
Dear Edith: - Thank you, sweetheart, for writing that letter of December 8th. It was waiting for me at 303rd. Engineers infirmary as I went by this afternoon.
Truly "This is the end of a perfect day".
And what is more delightful than spending the closing moments of this historic old year 1918, in writing a few lines to you.
Since Xmas, I've been unusually busy, because I let two doctors go on leave where other men would only have let one go. The Division surgeon must have appreciated the act, for last eve he sent me another doctor, even though we have our full quota.
Now we are eight doctors and two dentists. Don't know how long it will last. But it's fine while it does last.
Our regiment is in fair condition now. Only about 40 in the hospital and 62 carried "sick in quarters", Bronchitis, Diarrhea, and an occasional case of mumps is about all we have.
I made a trip to all the battalions today and, except for the ever present, and keen desire of the men to go home, the spirit of the men is fine. This is rather remarkable; it seems to me, when we recall that every single day it rains. The men are up and eat breakfast before its day light. They eat supper often after 4:30 when it's beginning to be dark. There are mighty few candles and no other light.
Fuel is scarce because of lack of transportation to get it. And many lads have had no change of underwear for several months. (This, in a whisper to you, is mismanagement from somewhere. Have you ever heard of her before?)
Edith, any old time you run out of something to be thankful for, then just thank God you're an American.
... one year ago tonight there was much of doubt and uncertainty, misgivings as to how Ivan would pull through at Ft. Riley. Restlessness because a strong and fixed sense of duty seemed to impel me into a course which promised only danger, discomfort, separation from home and loved ones, irksome toil, submission to the dictates of, often times domineering superiors, and (Excuse me a second while I put six chestnuts on the fire to roast.)
On Dec. 8th, you were still waiting to get my letter stating that "Peace was declared". I surely must have begun writing that to you about Nov. 7 or 8. We were called out of the front lines about Nov. 4. And we had a feeling then, that it was all over. Because, we could never overtake the main body of the German army. All we would find would be a strong defense put up by small bodies of expert men with machine guns. The Hun was making his get-away. He was overwhelmingly astounded at the "utterly fearless and enthusiastic courage" with which our boys went into battle and sure death. Exactly as if they were going into a game of foot-ball, or other sport. How such a wonderful army of Americans could be maintained and supplied at the front, in so short a space of time will always remain a miracle. And certainly it served to cheer the hearts of the Allies and put new life into their every endeavor, and to put the fear of God Almighty into the hypocritical egotistic demons who thought for a while that they could compel the world to knuckle to them.
But Edith, come let us eat those chestnuts instead of talking war. "The war's all o'er and we'll turn back to the place where we first started" and let's hope that turn be made soon.
You wondered in that letter where I am. Surely by this time you have learned where I live the past six weeks.
And if it were not for the bunch of mis-instructors we were tormented with at Ft. Riley, I would have a camera with me and you would have views of some of these interesting old places. By the way, I wonder, did you ever get that trunk unlocked?
I must take off my hat to Rev. Hutchins, if he is getting a basement put under that church. How did he do it? Congratulate him for me, please.
You thought Ivan would be home for Xmas. I do hope so. Tell him to go slow on the marrying proposition.
I have several Belgian and French and Serbian girls picked out for a daughter-in-law. They will agree, I was such a success in picking out a wife for myself that I ought to be competent to select the correct one for each of my sons. See? (Don't whisper a word of this to Marie. Or be I still up to date in assuming that "Marie" is the name of the unfortunate miss? You say Paul will be discharged from the Army Dec. 15 and that you don't know what he will do then. Heaven and Earth! What else can he do but continue on in school. Surely, he is no son of mine if he has not the stuff in him to go on through school.
Barring only ill health or accident.
You wish to sell the house. Hop to it if you can get $4000. We will set up somewhere else. Hastings or Lincoln, or Montana, or Fairfield. But life is so short to trifle away.
(By the way, I saw Lt. Stout of Dewitt and Lt. Miller of Lincoln, today. They are both in D company)
You say you "trying hard to be patient". Sweetheart, forget the effort. Be it with trying. It's all very much worthwhile, this little bit which we can do, "You in your small corner and I in mine," we together in ours. The sooner the better for me. Meanwhile God bless you and yours and ours and give us all, if he permit such a decree a very, very Happy New Year. The bell in the old church tower is striking the last "12" in the year. "Goodnight and sweet dreams."
G.H.B

---
Map of Locations & Detailed Chronological Record
The map below shows the front lines towards the end of 1918, with the red circles representing locations that are mentioned in the letters. Tours itself would be off to the bottom-left corner of the map.

DETAILED CHRONOLOGICAL RECORD

1918

April 2 11:18 P.M.
Notice of appointment as Captain, Medical Corps.
April 3
En route from Fairfield, Nebraska and arrival at Fort Riley, Kansas. Assigned to Co. 28 M.O.T.C., Barracks #8
Son, Ivan, in Co. G 355th Infantry

April 28-29
Mother Bentz and Marie Weyenberg (later Mrs. Ivan V. Bentz) visit the Fort.

April 29
Ivan Bentz transferred to New York City
The Quartermaster Corps, Governors' Island Fire and Guard Company Warehouse 57

May 10
5-day leave granted and orders to leave for Camp Merritt, New Jersey in 10 days

May 11-18
Fairfield, Nebraska on leave (leave extended 5 days)

May 18
Fairfield to Fort Riley

May 20
Loaded in special trains ready to go and then called back to Fort Riley to await
further orders

May 27
Missed Fern's graduation

June 1
Mother Bentz again visits Fort Riley

June 2
Left for Camp Merritt, New Jersey in charge of Section One of a 5-section train

June 9-10
36 hours with Ivan in New York

June 12
Embarked for France aboard the SS Missanabia

June 24
Landed in England at Liverpool

June 28
Southampton, England to Cherbourg, France

July 2
Blois, France

July 4
Assigned to Hdq. S.O.S. (Service of Supply)
Attending Surgeons' Office A.P.O. 717 at Tours, France

Oct. 1
Promoted to Major

Oct. 17
Ordered to Hdq. 1st depot Division to await assignment

Oct. 19
Left Tours for St. Aignon

Oct. 20
Thésée, France

Oct. 25
Tours (assigned to 78th Division)

Oct. 27
En route - at St. Dizier

Oct. 28
Is Sur Tille

Oct. 29
Reported Hdq. 303rd Engineers at Chatal Chéhéry just below Grand Pre

Oct.29-Nov.6
Field Service at the Front

Nov.3
Authe - Around Grand Pre Buzancy

Nov. 6
Relieved at Front, retires through Varrennes - St. Menshould

Nov. 11
Armistice

Nov. 12
Chalons sur Narne

Nov. 17
Enroute to rest Camp Semur - State of C

ô

te

d

'O

r Northwest of Dijon

Nov. 20
Between Venarey and Les Loume

Nov.21
Transferred to 312th Infantry at Bussey Le Grand

Nov. 30-Dec. 2
Leave at Tours to get baggage - via Paris

Dec. 31
Still at Bussey Le Grand


1919

Jan. 1
Bussey Le Grand 312th Infantry

Jan. 9
Leave of absence beginning on his birthday, lasting till his daughter Fern's
birthday, Jan. 25. Le Laumes - Paris - Versailles(Case of Grippe with
fever 102 over Sunday)

Jan. 15
Gievres - Pullman to Dijon

Jan. 14
Dijon

Jan. 15
Marseilles to Nice via Lyons - Hotel Luxembourg

Jan. 16
Monte Carlo
Menton - Italian Border

Jan. 17
Nice - Cannes - Isle of St. Marguerite

Jan. 18
Digne - Grenoble

Jan. 20
Dijon (Red Cross Hotel)

Jan. 22-24
Dijon - Tours

Jan. 25
Dijon - Les Laumes - Bussey Le Grand

Feb. 2
Entertained Maj. Gen. McRae

Mar.5
Marguerite Wilson guest of 312th Infantry

Mar. 8
Clara McRaynolds, nurst as guest

Mar.22
Word of transfer to S.O.S. on Apr 6, removing to Le Mans on Apr. 16
for embarkation

Mar. 26
Reviewed by General Pershing

Apr.14
Receives Statue of Joan of Arc from the City of Bussey Le Grande

Apr. 18-20
"3" days leave to Tours, Paris via Dijon

Apr.25-30
3 days leave to Paris, Tours and Foesy on business - extended 3 days.
While on leave April 20 news of transfer to Gondrecourt and Army of
Occupation, while the 312th Infantry goes to Bordeaux for sailing home.

Apr.30
Returned to Bussey Le Grande

May 2
En route to new assignment via St. Disier and Chaumont

May 5
Joinville

May 6
Gondrecourt as "Casual"
Visit with boys from home - George Fowler, Thornton Thornburg,
Percy Gay, Win Byrkit

May 7
Tou1

May 8
Chaumont

May 10-11
Tours

May 12
St. Aignon 1st Replacement Depot

May 12-18
6 day leave Dijon - Lake Geneva - Mt. Blanc - Evian - Chamonix -
Bussey Le Grand

May 25
Transferred to St. Nazarie, Camp Hospital #11

May 27
Reported to St. Nazarie, Camp Hospital #11

June 18
Camp Hospital disbanded and made into Camp Infomary #1

June 24
Received first letter from home since April 6

July 6-12
Leave of absence for visit to Amiens - Lille - Chateau Thierry, but
instead visited
July 6 Tours
July 7 Paris
July 8 Nancy
July 9 Paris
July 10 Tours
July 12 St. Nazarie again

July 16
Definite rumor of leaving for home 11 A.M.
5 P.M. orders to report to C.O> Montoir for embarkation as
Casual to U.S.A

July 19
Sailed from St. Nazarie on USS Kroonland (the last transport to leave this port)

July 30
Docked at New York Pier #6, Hoboken
---